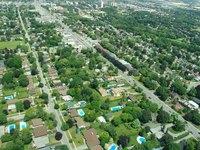 Employees in Ontario, Canada have specific rights under employment laws. The Ministry of Labour advises Ontario employees to know if they are covered by the Employment Standards Act (ESA), learn their rights and know what the employer must do to protect those rights. It is illegal for an employer to demote, harass or fire an employee who protests any violation of working rights. Employees should contact the Employment Standards Information Centre at 1-800-531-5551 to file complaints.
Sick Leave
Ontario employers must provide 10 paid days of personal leave per year if the company employs more than 50 workers. The leave will cover illnesses, accidents and emergencies. With notice, employees may take personal leave to see to family members' needs, such as taking time off for a child's dental appointment. The employer may legally request proof of illness, such as a doctor's note.
Unpaid Leave
Ontario employees may take up to eight weeks of unpaid leave for every 26 weeks worked in the event of a long-term issue that affects either the employee or a family member. Other types of leave include pregnancy leave and organ donor leave. Pregnancy leave allows up to 17 weeks of unpaid leave, while organ donor leave provides up to 13 unpaid weeks. Reservist leave applies to people in the military and lasts for the duration of the time the person is called to serve.
Wages
The ESA requires equal pay for all workers in the same position. There are general minimum wage guidelines, which vary by the type of worker. Students' minimum wage is lower than general minimum wage, which is lower than homeworkers' minimum wage. Employees of facilities serving liquor and hunting and fishing guides also have different minimum wages. Employers must allow two weeks of vacation per year, but employees may take the wages applied to vacation time without taking the time off, if the employer approves. Employees who have worked their regular schedules for the four weeks preceding a holiday are entitled to holiday pay. Premium holiday pay is 150 percent of the normal wage of the employee.
Termination
Under the ESA employees may terminate employment without notice, except for pregnant women who are taking pregnancy leave and won't be returning afterward. Those women must notify employers they won't be coming back. Employers must provide notice of termination to anyone who has worked for the company more than three months. The amount of notice is commensurate with the length of employment. If the employer gives notice of termination, an employee must provide one to two weeks' notice if he decides to quit before the termination date. Employers may pay a lump sum equal to the wages an employee would receive during the time from notification until termination in lieu of notice of termination. Some companies—depending on size, circumstances of the termination and total company payroll amounts—must provide severance pay to any employee terminated after more than five years with the business. Employers aren't required to notify employees before a temporary layoff, defined as 13 weeks of unemployment in a 20-week period or less than 35 weeks during 52 consecutive weeks.