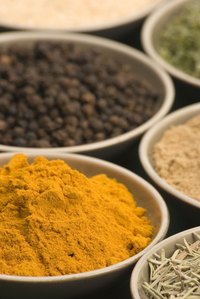 Healers and alternative medicine practitioners have used plants as medicine for thousands of years. These plants can help soothe pain, clear up skin problems, aid digestion and more. Many medicinal plants in India are flowers that look nice in pots around the house as well as being useful in medicine. India contains dozens of medicinal plants that many Indian natives still use in holistic remedies today.
Turmeric
Turmeric, also called haldi, is a very important Indian spice. Native to South Aisa, it grows with long, slender leaves and yellow funnel shaped flowers. The flowers grow from the pockets of the light green pinecone shaped form growing from the top of a single stem. Though the flowers are yellow, turmeric itself comes from the boiled and dried roots of the plant. They yield a yellow powder used for curing cough and cold, sore muscles, eye ailments and fever. Turmeric is rarely used alone; healers often mix it with milk, butter, dairy curd or aloe before application or ingestion to make a thick yellow paste.
Ashwaghanda
The ashwaghanda herb grows perennially and is native to the drier areas of India. It grows thick, fibrous green stems and produces small green flowers and little orange or red fruits. This plant grows to around 6 feet tall under proper care and is easily propagated from cuttings, seeds and root division. Since it is a member of the nightshade family, only experienced healers should use this plant. It is used to treat very serious disorders like tuberculosis and leprosy, the pain of rheumatism and lesser disorders like fatigue and swelling. Convalescents often take it to restore their strength and healthy people use it to improve their immune systems, as an antioxidant and even as an aphrodisiac.
Ceylon Hydrolea
The Ceylon hydrolea grows annually in humid, moist areas of India. These small brilliantly blue flowers have five petals each. Their color is so bright that they are easily spotted from a distance, though their stems and foliage are not as showy as the flowers themselves. The leaves contain antiseptic properties according to Flowers of India.Healers mash the leaves into a pulp and use them as cleansing poultices on ulcers. Though bright, the flowers have no discernable medicinal properties.