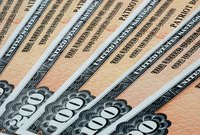 U.S. government funds are considered to be among the safest of all investments because they are backed by the full faith and credit of the United States. Mutual funds that invest in government funds usually are considered quite safe, although the risk level can increase based on the type of government funds being purchased by the fund managers, as well as outside forces such as interest rate fluctuations in the open market, according to the U.S. Securities and Exchange Commission (SEC). Mutual fund companies might invest in a wide variety of government funds, including government-backed securities.
Government Money Market Funds
Money market funds are popular investment tools because of their ready liquidity and low risks. According to the SEC, money market funds only can invest in high-quality, short-term U.S. government-issued securities, securities issued by state and local governments, and high quality commercial paper of U.S. corporations. In order to reduce the risk even further, some mutual funds only invest in high quality, short term securities that are backed by the full faith and credit of the U.S. government. The rate of return on these government funds is typically lower than the rate on standard money market funds, but the risk level also is lower.
Government Bond Funds
Mutual fund companies that only invest in bonds issued by local, state or federal government agencies are called government bond funds. This type of investment typically is designed to provide a steady stream of income to the investor that is higher than that generated by money market funds. The market price of government bond funds will fluctuate based on prevailing market interest rates and other factors such as average maturity of bonds within the fund, and the stability and credit-worthiness of the fund management company. Government bond funds are considered by the SEC to be a higher risk investment than money market funds. Investors should be aware that while securities within a government bond fund might be backed by the full faith and credit of the United States, the mutual fund itself is not. Investors can lose some of their investment due to adverse market conditions.
Mortgage Backed Securities Funds
Mortgage backed securities, sometimes referred to as Ginnie Maes, provide investors with the opportunity to participate in the government-backed home loan industry, according to the Mutual Fund Education Alliance. These types of securities typically require a minimum investment of $25,000, taking them out of reach for many individuals. Mortgage backed securities mutual funds pool the resources of numerous investors in order to participate in this government backed investment. Active fund management can help provide investors with a higher return on investment than government money market funds or government bond funds. The share price of government mortgage backed securities funds will fluctuate in the open market. Investors can lose some of their investment if they choose to sell during an adverse market.