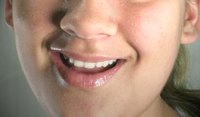 Orthodontics isn't just for teenagers with crooked teeth. People of almost any age can benefit from orthodontics. Among those benefits are increased confidence, a straighter smile and relief from pain caused by jaw misalignment. To market an orthodontics business, such as an orthodontist's office, emphasize the benefits of orthodontic work and the positive attributes of the business.
Mona Lisa Smile
Put out a print ad--which can also be adapted for use online--depicting two copies of the Mona Lisa, side by side. The left-hand Mona Lisa should be the original. A caption above or below the original should read, "Before braces." The right-hand Mona Lisa should be altered with photo-editing software to have a broad grin, showing straight white teeth. The caption should read, "After braces." Basic information about the orthodontics business being advertised goes at the bottom of the ad.
Informational Website
More and more people are turning to the Internet for answers to their questions--everything from "Was Ben Franklin ever president of the United States?" (no) to "Why does my jaw hurt in the morning?" (it depends). If you own or are affiliated with an established business, chances are you already have a website listing the business's basic information. Build up the website with pages giving detailed, honest answers to common questions related to orthodontics.
Use respectable references and don't include strong-arm marketing in the text itself. Consider working with a freelance writer to make sure your material comes off as authoritative and professional. This way, not only are you positioning your business as a trusted, reputable organization that cares about people's health, but you are also increasing the utility and overall search engine ranking of your website, which increases its visibility when someone in a nearby town is searching for an orthodontist.

World Smile Day
Issue a press release to local media announcing a special financing offer (or other promotion) in celebration of World Smile Day, an annual event started in 1999 by Harvey Ball, inventor of the yellow smiley face. World Smile Day is held on the first Friday of October. Alternately, rather than announcing a promotion, simply publicize World Smile Day in your region--try organizing a community celebration or dental health event with free toothbrushes and so on--and make sure your orthodontics business is credited.