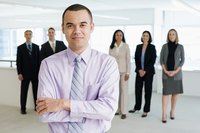 Human resource personnel hire, evaluate and fire employees. This business function is often highly regulated through federal, state and local guidelines. Companies must follow specific directions during the interview, hiring and working relationship process to meet both government and company requirements when employing individuals in their business. Audits are an internal or external function companies may use to evaluate their human resource function to ensure human resource guidelines are followed.
Collect Data
Auditors must often collect various types of information relating to a company's human resource practices. This data may include hiring documents, employee manuals, employment letters and federal or state paperwork. Interviews with human resource personnel may be another source for collecting information.
Examine Hiring Practices
A review of the company's hiring practices can help auditors understand how the company assesses future employment needs and how it analyzes to fill open positions. Auditors may also review the company's specific recruitment practices to ensure no discrimination is present during the hiring process.
Review Employment Offers
Human resource audits often include a review of the employment offers made to new employees. Auditors ensure that all offers are legal, meet government regulations and do not include any special kickbacks or other unethical practices.
Gauge Current Employment Levels
Auditors may review the number of employees and the specific job requirements for each position in a company. This review ensures that the company is able to properly protect and process business information without compromising the internal controls meant to eliminate employee fraud or embezzlement.
Test Employee Education
Many companies use training and development functions to continually improve the skills and abilities of their employees. Auditors may test training documents to ensure each employee is properly trained and not educated in illegal or unsafe business practices.
Review Union Contracts
Auditors usually test a company's human resource practices a little differently if the company uses unionized labor. Auditors use the union's documents to ensure the company is not forcing union workers to violate their union agreement. Auditors may also test the benefits offered to union workers to determine if any improprieties exist in this human resource function.
Examine Paperwork for Special Employee Classes
Companies using government programs for hiring mentally challenged, former inmates or other special classes of workers may also face detailed human resource audits. Auditors carefully review these workers to ensure the company is maintaining the necessary paperwork for these individuals and providing any special requirements for making these workers comfortable in the business environment.