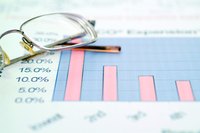 Organizations use performance management to monitor their progress towards achieving a set of strategic goals and objectives. Progress is measured based on an organization's performance in achieving the desired results associated with these strategic goals. Performance management can be applied to any level in an organization, as well as to business processes, products and projects. Ongoing feedback is used to develop resources needed to improve performance.
Reconciling Performance Expectations With Corporate Goals
Results at the organizational level depend on the performance of individual employees. If goals and expectations are not aligned, then departments, project teams and product managers will establish their own plans and objectives. These performance expectations may not reflect the desired results of the organization.
Simply communicating the strategic goals and objectives is not enough. Employees throughout the organization need to understand and buy in to the top-level strategic plan. Individuals and departments are likely to integrate their performance plans with the organization's plans if they are involved in the planning process and understand the expectations.
Measuring Performance
The challenge in assessing performance is identifying indicators that directly measure results, while at the same time measuring progress toward high-level strategic objectives. Measures that are not linked to the strategic objectives will not provide a meaningful assessment of performance for the organization, department or employee.
Furthermore, employees need to understand the indicators, and have the ability to directly influence the outcome. If the ability to influence the indicators is affected by outside factors, employees will become frustrated and unmotivated.
Integrating Business Processes
Business processes are required to accurately measure results over time. Existing processes are not always capable of providing relevant data that is consistent across the organization. In these situations management needs to invest in developing the processes. If an organization sets its objectives to work within the limitations of the available data, then the processes are driving the strategy.
Simply developing the initial processes is not enough. Continually assessing and refining the processes is needed to accommodate changes in strategic direction and performance indicators.
Managing Feedback
Key elements of performance management are employee development and process improvement. Information is required in a time frame that allows management to develop skills and invest in the relevant resources. If data is not gathered in a timely manner, management will not respond quickly enough to impact results.
A further challenge is to ensure feedback flows in both directions. Managers require timely feedback to monitor organizational results. Employees require feedback to validate, or to improve individual performance.