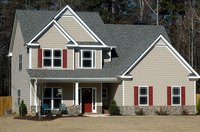 In some ways, marketing a new home is similar to marketing any other home. In other ways, however, marketing a new home requires different techniques and a different approach to reaching the target market. In fact, there are entire companies devoted just to marketing new homes, although it is not necessarily essential to employ a third-party marketing firm when trying to sell new homes. Utilizing some basic marketing ideas can ensure that the information about the property will reach the right buyers and get the property sold as quickly as possible.
Staging
Staging is simply the process of adding furniture to an empty home so that potential buyers can see what a room would look like with someone living in it. With the exception of interior decorators, few people can see a completely empty room and envision what it will look like with furnishings in it. In fact, the lack of furniture can affect the way that buyers perceive room size, particularly in homes that have open living spaces that connect to other rooms. As a result, adding furniture makes it possible for potential buyers to see what each room area looks like and how furnishings fit into it.
Open-House Parties
Another option for marketing a new home is to turn an open house into an invitation-only event. Most realtors collect contact information from potential buyers-- and just about everyone they meet--so they can send out invitations that are specifically targeted to people who will be interested in the type of new home that is being marketed. From there, the realtor can create a party at which the home is the guest of honor, turning the primary features of each room into the entertainment for the event. If the living room can hold (or already has) a state-of-the-art surround sound system, the realtor should offer a demonstration. If the kitchen has special appliances, the realtor can have the food and beverages prepared in there. In this way, the realtor will be able to keep the guests interested while showing off the special qualities of the home.
Sleepovers
Buying a home is a major commitment, so allowing potential buyers to spend one or two nights in the home can be a great way to help a buyer in making a decision. Nobody fully appreciates how a home "lives" until he or she has spent more than a few minutes in it. Giving potential buyers the opportunity to make a meal, spend the night and get used to the layout by going through their daily routine can help a buyer fall even more in love with the property. Additionally, consider offering the sleepover in a raffle contest to generate interest in the community. Most people love the idea of a freebie, and a free night or two in a new model home could create an increase in people who take the time to look more closely at the property.