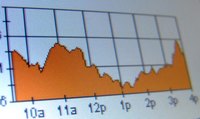 Stock prices fluctuate minute to minute. At the most basic level, the price of a security is the present value of all future cash flows. The sources of these price swings can be traced to factors within a company as well as external factors. Some of the most common factors include confidence, market expectations and projections, and current events.
Confidence
Confidence is one of the harder to quantify drivers of stock price change but is positively correlated with stock price. Momentum also falls under this category; if a stock's price is rising, some believe that current success will bring more success, and thus the price continues to rise. Additionally, announcing a new CEO could affect confidence positively or negatively. Imagine Apple releasing Steve Jobs. Obviously, consumer and market confidence in the company would drop.
Market Expectations and Projections
The expectations of the market play a major role in determining the price. In theory, the combination of all the players in the market determine the market price of the stock. As mentioned in the introduction, the value of a security is the present value of all future cash flows. It then follows that as future expectations increase, future projections of company earnings will also increase, along with dividends if the company pays them. Earnings are either reinvested in positive NPV projects by a company, which causes assets to increase, or are paid out to shareholders as dividends. Either way, this effectively increases all future cash flows and drives up the stock price. Market expectations and projections are also positively correlated to the price of a stock, though it must be noted that on the date of a dividend payment, the price of a stock generally drops proportionately.
Current Events
Current events also play a major role in stock prices. For agricutural corporations, if a growing season yields more product than anticipated, earnings will be higher and more money will be available to be paid out to shareholders or reinvested. The opposite is true for yields lower than expectations. In cases like this, the effects aren't extremely pronounced as the events aren't expected to be repeated. An outbreak of war can increase short-term demand for the products of military companies; a new discovery can render old tehnologies useless and transfer their producer's market share to a new company. All of these types of current events have an effect on the price of stock, though the direction the stock will move depends on the event.