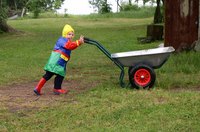 When the weather becomes warm, enterprising children bring out their tables, chairs, cups and lemonade for a roadside sale. Other children look forward to the first big snowfall, so they can pull out their shovels and start clearing out driveways. Children come up with brilliant ideas, and some of these ideas become exceptional business ideas. With the proper guidance and encouragement, children can become entrepreneurs.
Used Items
Children have toys that they lose interest in quickly. Instead of getting rid of old toys, they can sell their old toys, books and clothes on eBay, Amazon.com, or other online sites. Selling their toys at flea markets and yard sales is another option. Many parents want to save money and don't mind buying used toys, especially if it's a good deal.
Jewelry
Children with an eye for design can start a jewelry business. Local craft stores sell the material needed to make bracelets, necklaces and earrings. Only a few items, such as elastic, beads and glue, are needed to make a simple bracelet. Children can sell their homemade jewelry online, at flea markets, at consignment stores and bazaars. They can even take orders from friends and family members.
Little Helper
Children old enough to do chores around the house can start a business helping friends and family members with their chores. An older child can pull a garbage can down to the street for garbage day. Younger children can help pull up weeds. A child who loves to read can read letters or books to senior citizens. Various possibilities exist for children to make life easier for other people.