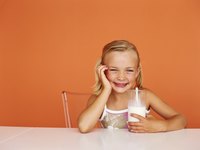 Living organisms and organic substances such as milk play host to thousands of different types of bacteria. Only a relatively small handful, termed pathogenic bacteria, cause infectious diseases. Highly nutritious and perishable foods such milk and dairy products are especially susceptible, and a number of common pathogens can be found in them.
Listeria Monocytogenes
Listeria monocytogenes is a gram-positive organism that lives inside the intestines of 1 to 10 percent of humans. It's especially dangerous because it survives surprisingly well in salty, dried and refrigerated foods, making it a common threat in cheeses -- especially soft cheeses -- and unpasteurized milk. Listeriosis, the disease caused by the bacteria, is one of the more dangerous food-borne illnesses. According to the U.S. Food and Drug Administration it causes an average of 255 deaths a year in the United States, and can also cause miscarriages in pregnant women.
Yersinia Enterocolitica
Yersinia enterocolitica is a gram-negative organism that has been identified in a wide range of hosts, from farm animals to frogs and fleas. It's found more often in meats and seafoods than in dairy products, but you're at risk if you commonly consume raw milk. Yersinia can survive freezing, so this also applies to ice cream made from unpasteurized milk and cream. Symptoms include vomiting or diarrhea, abdominal pain, fever and occasionally joint pain. It is rarely life-threatening.
Campylobacter Jejuni
Campylobacter jejuni is a gram-negative form of bacteria that has a requirement for small levels of oxygen and is sensitive to stresses of the environment. Its primary symptom is a nastry bout of diarrhea, though you might also experience some abdominal pain, muscle pain or fever. It's seldom life-threatening, except to the very young, the elderly, and those with compromised immune systems. Raw, unpasteurized milk and its derivatives are the only dairy products prone to Campylobacter infection.
Escheria Coli
There are many bacteria in the Escheria family, only a few of which are harmful to humans. However, those few can be devastatingly dangerous. The type most likely to be found in dairy products is called enterohemorrhagic E. coli, a family of related strains that includes 0157:H7, the variety you'll read about most often in news reports. Like many other pathogens it's found in many foods, but pasteurized dairy products are generally safe. You're only likely to encounter it in raw milk.
Salmonella
Although it's primarily associated with other foods, Salmonella outbreaks have also been caused by dairy products. The large family of Salmonella bactera produces two forms of illness, either an unpleasant form of gastroenteritis with diarrhea and cramping; or the far more serious -- and often lethal -- typhoid fever. Salmonella is rare in pasteurized dairy products, but can occur in processed or homemade foods made from dairy products.