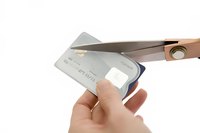 Bankruptcy allows debtors who owe more money than they can reasonably repay to file for relief. The kind of bankruptcy you file will be determined by your financial situation. Chapter 13 Bankruptcy requires that you work out a payment plan with your creditors, repaying all or some of your debt. Chapter 7 will eliminate your debts, but does not provide the same protection of secured loans that Chapter 13 does. There are some debts, like student loans, spousal and child support payments and taxes that are not dischargeable under any chapter of bankruptcy.
Consumer Loans
Major credit cards, as well as those you have opened in department stores, can all be included in a bankruptcy filing. These are generally considered "unsecured" loans and you will likely retain possession of them. Keep in mind that the bankruptcy courts can see from your records when you acquired these items and don't take kindly to consumers running up debt right before filing for bankruptcy.
Medical
A new study indicates that over 60 percent of the 1.5 million Americans who filed bankruptcy last year were pushed over the financial edge by medical bills, reports CNN Health. While it's easy to believe that bad choice and a lavish lifestyle are responsible for most cases of bankruptcy, it is medical bills that is most often the culprit. The amazing thing is that three-quarters of the people who filed bankruptcy for medical-related financial problems had health insurance. Their out-of-pocket expenses and time off from work still did them in. It is for that reason that medical debts are included in bankruptcy filings.
Home
A home can be included in bankruptcy proceedings, but what happens to your home in the event of bankruptcy is a complicated matter. There are a number of factors that will determine the outcome. Are your payments current? Are you filing Chapter 13 or Chapter 7? Do you live in a state that has a homestead exemption law? Do you plan on allowing the home to go into foreclosure? A competent attorney should be able to guide you through the confusing maze of questions you'll need to have answered before filing.
Automobiles
Like a mortgage loan, automobile loans may be included in a bankruptcy filing. Some states allow debtors to keep specific property that they will need to keep working or to care for their family. These exemptions vary from state to state. You can ask a lawyer to explain the auto exemption laws of your state to you.
Utilities
It is, perhaps, no surprise that those having trouble paying the rest of their bills might have trouble paying utilities. Utilities can be included in a bankruptcy filing and if you do so an Automatic Stay will be imposed by the bankruptcy court, preventing the utility companies from shutting off service to your home. While the amount you owe prior to the filing date will be discharged, you will be responsible for paying all bills that are incurred following that date.