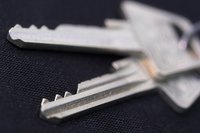 A locksmith is the person you call when you are locked out of your car or home, if you need a duplicate key or if you have a lock that has no key. According to the U.S. Bureau of Labor Statistics, the average locksmith in the U.S. earns about $37,000 per year. He uses a variety of tools in his job, whether it's specialized tools to pick a lock and open a door or kits and tools that allow him to duplicate keys.
Portable System
For locksmiths who work from a car or van, a reliable, portable system is essential. One such system is the high-tech key duplication system available from companies such as Multipick Services, a German company that ships its products worldwide. This system allows the user to quickly create a duplicate of any key on location. The locksmith makes a mold of the original key using the casting materials. The next step is to cast a duplicate of the key. This kit includes a metal casting alloy that creates a durable metal key from the mold in about 60 seconds.
Code Machine
According to the Master Locksmith, a locksmith website that provides consumer education, certain kinds of key duplicating machines do not require the original key. Instead, the key code can be used by a locksmith to duplicate the key. To do this, the locksmith uses a machine that can create a new key from the code the locksmith enters into the machine. This code is present on the original key and gives the locksmith the essential information. A code machine can be set by dials, which the locksmith adjusts to represent the key code, or it can be set by a computer attached to or built into the machine. Key code machines are available for purchase by locksmiths for around $2,000 (as of 2010), although this price can vary quite a bit depending on system enhancements and capabilities.
Direct Duplication
Keys can also be made by direct duplication. In this process, the locksmith fixes an original key into a holder that positions it for duplication. An appropriate blank is then selected and placed into another section of the machine. When the machine is run, a special mechanism tracks the outlines of the original key, and a cutting device transfers these cuts to the key blank. This type of key duplicating machine is readily available and is commonly used by locksmiths who operate from a fixed location, such as a store or kiosk. It can duplicate almost any type of key, provided the blanks are available. Many direct duplication machines also have the ability to duplicate keys by using the key code.