Vitamin C -- an antioxidant that protects your cells from damage, maintains skin and tissues, strengthens your immune function, aids in the absorption of iron, and reduces your risk of developing heart disease, various cancers and cataracts -- is found in numerous fruits and vegetables. Though vitamin C doesn't prevent the common cold, getting enough can reduce its duration and severity of symptoms, according to the Office of Dietary Supplements. Choose fresh fruits and vegetables, as heated or stored fruits and vegetables lose vitamin C content.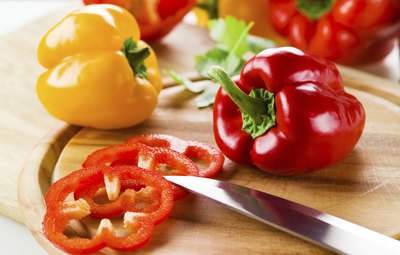 Citrus Fruits and Citrus Juice
Citrus fruits -- which include grapefruit, oranges, lemons, limes, clementines and tangerines -- are especially high in vitamin C. One cup of fresh orange juice delivers 124 milligrams -- 137 percent of the recommended daily intake of 90 milligrams for men and 165 percent of the recommended 75 milligrams for women.
Lemon juice comes in second place, with 94.4 milligrams in a 1-cup serving, and red and white grapefruit are third, with 93.9 milligrams. Whole fruits contain slightly less vitamin C per cup than their juice counterparts, with the exception of lemons. A 1-cup serving of fresh lemon contains 112 milligrams, while a 1-cup serving of lemon juice contains 94 milligrams, according to the USDA National Nutrient Database.
A study in the 2011 issue of the Journal of Epidemiology reported that the more you eat citrus fruits the more you reduce your risk of stroke and cardiovascular disease.
Acerola, Guava and Other Fruits
Citrus fruits do not corner the market on vitamin C. In fact, the USDA lists a 1-cup serving of acerola cherry juice at the top of the chart with 3,872 milligrams. Along with high vitamin C content, acerola juice may help prevent weight gain for those with high-fat diets, as well as reduce inflammation, according to a study in the 2013 issue of Lipids in Health and Disease.
Next in line after acerola cherries is a 1-cup serving of raw guava, with 377 milligrams. Other fresh fruits with high vitamin C levels include currants, kiwi, pineapple, strawberries, papaya, mango, cantaloupe and elderberries.
Peppers and More Peppers
Red, yellow, green, hot and sweet peppers are all high in vitamin C. One raw, 3-inch diameter yellow pepper holds a whopping 341 milligrams of vitamin C, while a 1-cup serving of raw, sweet red pepper contains 190.
Heating peppers will lower their vitamin C content, so researchers from the National Academy of Agricultural Science in Korea performed a study to see which cooking method retains most of peppers' nutrients. The results, published in a 2012 issue of Preventive Nutrition and Food Science, showed that roasting or stir-frying retains more nutrients, such as vitamin C, than other cooking methods. If you prefer your peppers cooked, try one of these methods to get the greatest vitamin C benefit.
Broccoli and Other Vegetables
A single cup of chopped, raw broccoli delivers 81 milligrams, which is more than 100 percent of the recommended intake for women and 90 percent of the RDI for men. Other cruciferous vegetables with fair amounts, even cooked, are cauliflower, Brussels sprouts and cabbage. Leafy greens such as kale, mustard greens, beet greens, collards, spinach, Swiss chard, watercress and parsley all contain vitamin C, as do tomatoes, white potatoes, sweet potatoes, peas, rutabaga and winter squash. A 3- to 4-inch baked white potato contains 37 milligrams, while a 1-cup serving of baked sweet potato contains 39 milligrams.