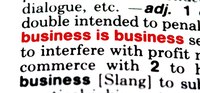 While every company will have a unique strategy based on its characteristics, Harvard University professor Michael Porter introduced "generic strategies" in his 1985 book "Competitive Advantage: Creating and Sustaining Superior Performance." The following three generic strategies are the template from which most corporate management strategies are created and the foundation for most, if not all, corporate decisions. Companies need to assess their individual business strengths and needs before choosing a corporate management strategy.
The Cost Leadership Strategy
The first of Porter's generic strategies is called the Cost Leadership strategy. Its purpose is to give a corporation the edge it needs to best its competition. The Cost Leadership strategy proposes two main options. The first is to increase a company's profits by cutting costs and charging prices that are average for that company's particular industry. The second approach is to increase market share by charging lower prices and at the same time cutting costs.
The point of the Cost Leadership strategy is to reduce the costs the company shoulders by producing goods and services. Any prices paid by the company's customers are not relevant in this strategy.
Companies that wish to utilize the Cost Leadership strategy should have access to the necessary funds to purchase the technology that will help reduce costs. They will need efficient logistics and access to inexpensive labor, facilities and supplies so they can cut their costs lower than the competitors.'
The primary risk in utilizing a Cost Leadership strategy is that other companies can implement similar tactics to increase their profits.
The Differentiation Strategy
As the name implies, the Differentiation strategy means developing products or services that are different and more enticing than those of one's competitors. While the specifics to differentiation depend on the type of industry a company competes in, factors such as functionality, durability, product and customer support, product features, and brand image and advertising are common areas where a company can implement the Differentiation strategy.
Corporations that wish to implement the Differentiation management strategy need access to product research and development, and they must be innovative. Their products and/or services must be of good quality, and the company must be able to deliver strong advertising, marketing and communications campaigns. Companies using Differentiation must also be flexible with their products in order to stay competitive.
The Focus Strategy
The Focus strategy is ideal for companies that want to concentrate on an individual market segment or a niche product and/or service. By utilizing the Focus strategy, companies can hone in on the specific wants and needs of their particular customers and create unique products and marketing tactics for that demographic. An advantage of such a strategy is cultivating customer loyalty. The focus strategy is not usually implemented on its own, but rather in conjunction with either the Cost Leadership or Differentiation strategy. Companies that incorporate the Focus strategy into their corporate management plan must ensure they're providing an added value to their product or service.