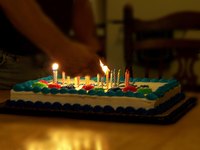 Many teens dream of an extravagant 16th birthday party–causing much anxiety on the part of their parents. But you can throw a real celebration without spending a bundle. Pick a creative theme, host the party at home and entertain your 16-year-old in high style to make their day special.
Dance Party
Cut music notes out of black paper, write the party information on them using a white pencil and send them out as invitations. Move furniture out of the room where the party is going to be held to create a dance floor. Tape CD cases with various singers onto the walls. Put streamers all around the room that are the birthday girl's favorite colors. Hang an inexpensive disco ball from the ceiling. Create a mix of the birthday girl's favorite music for the guests to dance to. Make homemade pizza and snacks for the guests to munch on between dances.
Hollywood Party
Cut a large star out of a piece of white construction paper to make invitations. Remember to let the guests know that this is a Hollywood party and they should dress accordingly. Hang magazine pictures of famous Hollywood stars around the party room. Host a pretend award show, having the birthday boy make up categories and give out handmade awards to his winning friends. Categories can include most creative evening wear and best hairstyle, or create awards specific to his friends' personalities. Serve food inexpensive food such as pasta or meatballs. Serve the guests' soft drinks in plastic champagne flutes.
Outdoor Party
Glue leaves and sticks around the edge of piece of cardstock and write party information in the middle to spread the word about thisparty. Decorate an outdoor party area with tiki torches and helium-filled birthday balloons. Lay out decorative blankets for guests to sit on. Set up different stations where kids can play such games as badminton, croquet and horseshoes. Have a water-balloon toss right before the food is served. Grill hot dogs and hamburgers and make s'mores over the barbecue.