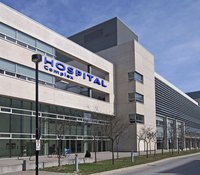 Marketing your hospital may sound like an odd decision but it's an essential move to provide information about your services to prospective patients and to communicate better with them. The better the communication, the more satisfying the experience will be for the patients, which can improve retention and increase referrals.
Email Marketing
One of the easiest and most inexpensive marketing tools available to hospitals is email. It's also one of the most flexible. Not only can you target your communication, selecting specific consumers you want to message, but email can be personalized and customized to the audience as well. In fact, consumers prefer to receive information about healthcare by email, according to a 2012 survey by Ad Age. Consider emailing news about new medications or treatments that may be of interest to specific audiences. If a consumer responds, you then have the opportunity to spark a conversation that may lead to a long-standing relationship.
Relevant Onboarding Kits
According Pitney Bowes, a software manufacturer, extensive onboarding kits, which are often given to new members, can lead to both "low referral and retention rates." By generating an onboarding kit that contains content relevant to the individual, your hospital can counteract this. One potential option is a variable composition tool, software that produces communications specific to the household. Like email marketing, the messaging can be tailored to the audience, but you can use this tool to create templates for letters, mailers and other marketing collateral. If, for example, the new patient has diabetes, they wouldn't necessarily benefit from information on cancer, so you can tailor the materials to meet the healthcare needs of the individual.
Interactive Healthcare Apps
Investing in a mobile or online app may not sound like a marketing strategy, but the most successful websites are often those with the best tools. This same rule would apply to your hospital. Apps are highly interactive, accessible, informative, purpose-driven and very persuasive. Aetna, for example, teamed up with Mindbloom, a mobile app developer, to develop an app to inspire people to live a much healthier lifestyle. The concept is quite simple. Users "play" with a virtual tree, and each healthy or balanced life choice you make in the real world keeps the tree thriving.
Social Media Marketing
If your hospital isn't leveraging social media to market to potential patients, it's missing a huge opportunity. Use Twitter, Facebook and even YouTube to identify people potentially in need of a doctor. You can also use these services to respond to those looking for medical professionals. While a bit more time-intensive, these tactics could bring in referrals for your hospital.