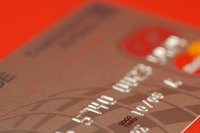 Banks are in the business of making money; offering credit cards to their customers creates another stream of income for a lending institution. The credit card industry is huge, with profits earned in excess of $19 billion in the year 2008 alone. There are a number of advantages of credit cards to banks. Due to their simplicity and convenience to consumers, it looks as if banks will not be getting rid of such cards at any point in the near future.
Store Fees
When you use your credit card to purchase an item, you may not be aware that the owner of the store you buy from is receiving less than the sale amount from her bank. Each time you use your card at a store, the bank subtracts a small percentage of the price and takes this amount as a fee.
Interest Fees
Banks also make money from the interest fees that they charge on a monthly basis on your unpaid balance. The average interest rate is over 16 percent for those seeking a credit card for the first time, according to indexcreditcards.com. Card holders who own business credit cards enjoy a slightly lower rate of interest, at a bit over 15 percent.
Late Payment Fees
Credit card holders who do not pay their bill in a timely manner are often responsible for a late payment penalty. In addition to charging people who pay late, certain banks will also change the terms of your credit card interest rate. Altering this rate will result in paying a higher monthly payment to the banks. These fees can be minimized by setting up your credit card bills to be paid automatically directly from your checking account. The good news is that due to a federal law which went into effect in February of 2010, banks must notify card holders of any interest rate changes 45 days in advance, and your interest rate can't be changed during your first year with the credit card company.
High Annual Fees
More banks now charge credit card consumers annual fees. These fees generally start at $29 and are another method to earn money from credit card holders. Be aware that now, certain banks may also charge you for not using your card for a certain period of time, or for charging less than a certain amount. Contact your bank to find out whether these terms apply to your credit card.