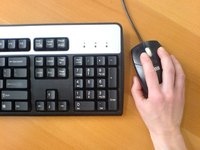 Sending a company newsletter weekly or monthly can be a great way to communicate new ideas. If you send the newsletter to customers, you can spotlight parts of your business or introduce new products. If you send the newsletter to employees, you can build a sense of common purpose and pride in the company. You can send a printed newsletter, or you can send a newsletter via email.
Coupons
When publishing a business newsletter for your customers, clients and partners, you can use advertising promotions and specials to build business. One great way to do this is to include a coupon or e-coupon. (Even if the coupon only showcases your normal rates, it will make your readers think they are getting a deal.) Giving coupons also lets you test the effectiveness of your marketing, if you keep track of how many coupons are redeemed and by whom.
Ask Your Readers
If you're short on ideas, or you're not sure what people want to read about, ask your readers to send in their own submissions or questions. This can be particularly effective if the newsletter is sent throughout your own office, because it gives employees a chance to present feedback or business ideas.
Interview an Expert
Interviewing an expert in your subject matter is another way to generate content and add a reputable name to your newsletter. Plus, the expert might have ideas you had not considered. If the expert actually writes the column, that can take some of the workload off you for creating articles for the newsletters.
Employee Showcase
If your company does an employee of the month program, or employee of the quarter, including that information in the newsletter is a great way to make other employees and clients aware. It lets you give positive reinforcement to employees and let others know about their valued accomplishments.