Located in the western part of Washington state, Seattle is situated on Puget Sound between the Olympic Mountains and Cascade Mountains. Seattle is known for its moderate temperatures and pronounced rainy season. The geography and climate there create conducive environments for several types of poisonous spiders and snakes.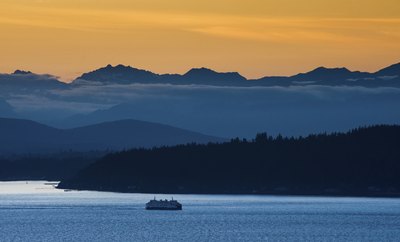 Hobo Spider
According to Washington State University entomologist Todd Murray, the hobo spider, or aggressive house spider, is the most common type of spider in the Seattle area. Hobo spiders are brown and grow from 12 to 18 mm in length. Some of their bites are "dry," which means no venom is injected. However, when it is injected, victims typically develop a small red blister and then no other symptoms during the first 24 hours after the bite. Within 24 to 36 hours, the blister breaks open leaving an open ulceration. The ulceration typically scabs over and leaves a permanent scar on the victim. Some other physical effects of a hobo spider bite include headaches, flulike symptoms, vomiting and nausea.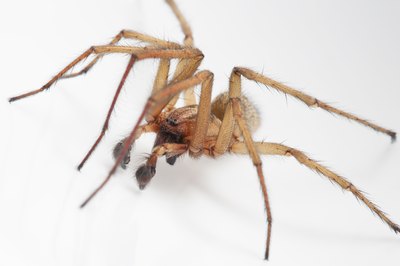 Black Widow Spider
While black widow spiders are rare, this poisonous type of spider can be found in Seattle. The most common types in the area are western black widows, or Latrodectus hesperus. Infamous for its black coloring and red spot on its underside, black widow spider bites are serious, but usually not lethal. The bite usually feels like a pinprick, and the bite area begins to feel painful and stiff within a few hours. Many people experience chills, nausea, vomiting, fever and severe abdominal pain. This spider usually hides and typically only bites when it is molested.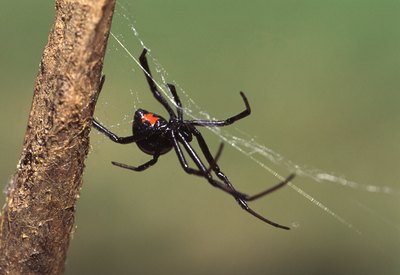 Western Rattlesnake
While the most common types of snakes in Seattle are nonpoisonous garter snakes, the western rattlesnake is sometimes found in the area. This type of snake may be olive, brown or gray and usually grows from 18 inches to 4 feet long. It has a broad, triangular head, diamond-shaped patterns along the back and a rattle-tipped tail. These types of snakes are usually found in rocky, mountainous areas. Their venom squirts out when attacking a victim, but they cannot spit venom. A western rattlesnake bite usually does not have enough venom to kill a human, but can cause discoloration and painful swelling at the bite mark.