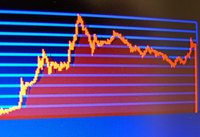 Experts who watch the stock market are constantly keeping an eye on the many factors that traditionally drive stock prices. In order to be able to trade stocks, it is important for every investor to know what kinds of things make stock prices move up or down so that you can protect your investment, or make money on your next trade. Before you get into the world of buying and selling stocks, you first need to understand the indicators that help to drive stock prices.
Company Earnings
Most publicly traded companies release earnings estimates for the coming fiscal year prior to the end of the current fiscal year. As the year rolls on the company will issue quarterly earnings numbers that financial analysts will compare to the company's projected earnings. If the company misses on its projections, then the financial analysts will devalue their stock and the stock price will drop. If earnings exceed the projection then the stock price will jump.
World News
Stock prices can be affected by news from anywhere in the world. If a large company has a major supplier that experiences a natural disaster that will interrupt production, then that company's stock will drop. Automobile recalls, health issues with food products and safety concerns with the manufacturing process of children's toys have all helped stock prices to drop for some companies. On the other side, the stock prices of a company's competitors may rise as they stand to gain market share due to the bad news affecting their competition.
Management Decisions
The stock price of any company can be tied to the performance of their management team. A company can help or hurt their stock price as a result of how they respond to lean sales numbers, a scandal such as a top executive embezzling money or the sudden passing away of the CEO. How a company manages its business has a significant effect on its stock prices. This also holds true for the partnerships companies use to execute business. If a company has a partner that experiences problems, then those problems can reflect on the company's stock price as well as that of the partner.