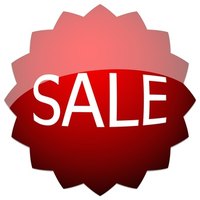 Proper promotion of goods can increase sales and lead to higher business profits. Products can be promoted through a variety of methods, which typically fall into two categories. Promotion can be based on a "push strategy," which utilizes promotional activities and employees to establish product demand, or a "pull strategy," which encourages customer purchases through advertisements. The most successful strategies tie the method of promotion to the type of product for maximum sales and business impact.
Advertisements
Product advertisements can take the form of television or radio advertisements, promotional signs or print media ads. As a form of "pull strategy" marketing, these initiatives, although expensive, can result in increased customer demand at retail locations where goods are sold. Increased customer demand leads companies to provide a greater supply of goods to customers in their stores, which increases overall product sales.
Discounts
Promotional discounts through coupons, sales and special offers can encourage customers to purchase goods. Discounts can provide a competitive pricing advantage between your goods and those of your competitors and can modify existing customer buying patterns. This type of "pull" promotional marketing is often associated with consumer products that are purchased on a frequent basis, new products and goods typically priced at a premium.
Employee Interaction
Sales associates in retail stores and online- or phone-based sales representatives or sales professionals with direct customer contact can approach customers and offer goods through promotional language and use sales techniques to encourage purchases. This type of "push strategy" is often used for goods with a higher cost, goods with a technical or electronic foundation or goods that naturally lead to customer questions or interaction.
Promotional Products
Goods can be promoted through indirect methods such as promotional products. Shirts emblazoned with advertising slogans, pens featuring your company name, product placards on cars and give-away items highlighting your goods can help raise product awareness and increase demand for your products. This method is often used at trade fairs, in locations with high customer traffic, or for goods that employ a direct sales model.
Product Samples
Goods can be promoted through samples distributed by direct mail or in retail establishments. Allowing customers to sample a product can encourage reluctant consumers to purchase an unfamiliar product. This method of product promotion is associated with consumer goods and food products and may be an effective promotional strategy for new products or products with low customer awareness.