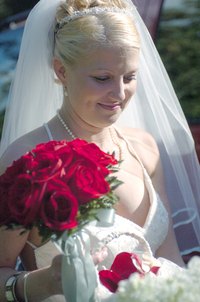 Everyone wants to look picture perfect for a wedding, and part of looking great is a nice hairstyle. There are many styles to choose from, ranging from very difficult to very easy. For a stress-free wedding hairstyle that you can do yourself, here are a few options.
Hair Down With Glamorous Curls
Wearing your hair down can be elegant, sexy and perfect for a wedding. For big bouncy curls, hot rollers work really well. First take a round brush and hairdryer and smooth out the top portion of your hair, giving roots a lift. Let the rollers heat for about 20 mintutes. Star with the front top, wrapping small sections of hair evenly around the curlers. Spritz your hair with hairspray. Leave in for between 10 and fifteen minutes, depending on how curly you'd like your hair. After taking the rollers out. Flip your head over, gently work through the curls with your fingers, flufffing as your go. Flip your head back over, and adjust your curls. If you see kinks, take a curling iron and fix the kink. Spay with hairspray and shine. You can add baby's breath on the side above the ear for a special touch.

A Little Up
With your hair half up, the guests will be able to see your beautiful face. Roundbrush your roots, to smooth and lift the roots. Then start hot rolling your hair. Sectioning off the pieces, start from the front and work your way back. After they are in, spray your hair with hairspray. While the rollers set, for about 10 to 20 minutes, plug your curling iron in and let it heat. After removing the curlers, flip your head, work through the curls with your fingers. To pull part of the hair up, section grab the section right in front of your ears. Holding with one hand, tease the back part of the section, which will give it a lift. Smooth out the front, so there are no bumps. Use a small hair band the color of your hair to tie up the section. Adjust the front so that it is even and has a small lift. Take a tiny section of hair close to the hair band, and wrap the hair around the band hiding it. Fasten the hair underneath the band with a bobby pin. Now, you are ready to adjust your curls. If you like the big bouncy curls, don't use the curling iron. If you'd rather have smooth and even curls, use the curling iron.

Up-Do
Many brides like the put together look of an up-do for their wedding. The hairstyle looks difficult but it's not. First, use a round brush to smooth your roots and give them a lift. Then, start hot-rolling your dry hair. After the hair has set for about ten to 15 minutes take the rollers out and finger through the curls. Flip your head over and tease the roots to give them even more lift. Flip your head back over and smooth out the outside layers of hair. Pull your hair up into a loose pony tail at the middle to crown of head. Take a one-inch section of hair and make a large curl over your ponytail, and pin the hair in place. Continue with the rest of the ponytail, curling the hair evenly over the ponytail in opposite directions, pinning each time, underneath. After all your hair is up, use hairspray to hold in place. You should have a full, pieced bun. Gently smooth out any bumps on the front of head, using a fine tooth comb. For a nice touch, place a flower, baby's breath or elegant clip on the front/side of your newly constructed up-do.