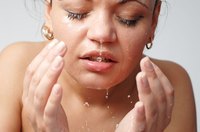 Benzoyl peroxide is commonly used for treating acne. This ingredient is found in many over-the-counter and prescription acne medications. According to the Mayo Clinic, benzoyl peroxide kills Propionibacterium acnes (P. acnes), the bacteria responsible for acne inflammation. Benzoyl peroxide use has risks, though, including making the skin sensitive to sun exposure, making daily sunscreen use a necessity.
Hyperkeratosis
A study conducted by the Consumer Health Care Products Association (CHCPA) shows that benzoyl peroxide causes hyperkeratosis. According to the National Cancer Institute, hyperkeratosis is the thickening of the skin's outermost layer. The CHCPA study concluded that this skin health risk is not permanent.
Rash
Medline Plus lists rash as a side effect or risk of benzoyl peroxide use. Rashes are a form of dermatitis that is often characterized by inflammation or swelling and redness. Treatment for rash includes avoiding harsh rubbing or scrubbing of the affected area, use of gentle cleansers, avoiding hot water, exposing affect area to plenty of air, and treatments--such as calamine lotion or hydrocortisone--to soothe rash.
Sebaceous Hyperplasia
Another skin health risk of benzoyl peroxide the CHCPA study found is the emergence of sebaceous hyperplasia. Sebaceous hyperplasia as the enlargement of the oil gland (small bump) found on the epidermis (skin). This condition tends to go away on its own, therefore, no treatment is required, according to Skinsight.com.
Dry/Peeling Skin
Benzoyl peroxide use can cause skin dryness and peeling at the application site. Medline Plus recommends using a mild soap or cleanser on the affected area, not scrubbing or rubbing the skin harshly, using a rich moisturizer, and using sunscreen every day. If this side effect worsens, contact your doctor.
Allergic Reaction
AcneTeen.org states benzoyl peroxide can cause possible allergic reactions--such as hives, itching, dizziness, trouble breathing and a feeling of tightness in the chest. Perform a skin patch test on the inside of your arm to determine if you are allergic to benzoyl peroxide. This should be done three to four days prior to using products containing benzoyl peroxide for treatment of acne. If you display signs of an allergic reaction to this ingredient, consult your doctor to find an alternative medicine for your acne.