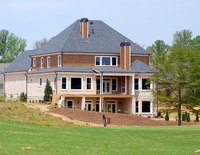 Canada has different multiple listing services (MLS) where homes and properties for sale are listed. There are a number of different types of these listing services, ranging from those which sell residential property to commercial property to international property. Listing a property on these MLS sites usually costs a fee per listing and, until recently, only allowed licensed real estate brokers to list their properties on there. However, residential listing rules in Canada have recently changed.
Homeowner Listings
It used to be that licensed real estate agents were the only ones allowed to list and sell properties on the MLS. Recently, however, the rules have changed and homeowners may now sell their own properties on the service with only a small amount of help from real estate agents. The seller can now pay a flat fee to the MLS and allow potential buyers to contact them by phone, allowing the seller and buyer a direct connection. The Canadian Real Estate Association approved this rule change in March of 2010. This only applies to residential real estate.
Commercial Real Estate
To sell and list commercial real estate in Canada you must become a full member of the Canadian Commercial Council (CCC) and must abide by a strict code of conduct and business ethics as set forth by the council. To apply to be on the CCC you must have a pre-approved designation like Accredited Land Consultant, A Certified Property Manager, a Councilor of Real Estate or be a Certified Shopping Center Manager. You must also prove you have completed and passed at least one entry-level commercial real estate course in your application. Once this is approved by existing members of the CCC, you can become a member and sell commercial real estate on the MLS.
Flat Fee Postings
Real Estate Agents who post listings on the MLS in Canada for a flat fee are not required to represent the clients who paid them to list their home for that fee. If they want to pay the Realtor more money to represent and sell their home, then they have the option to do so. These new rules about flat fee postings and the responsibilities of Realtors have been considered anti-competitive by Federal Regulators, creating a monopoly for the Canadian Real Estate Association who owns the MLS, where 90 percent of all home buying transactions are done.