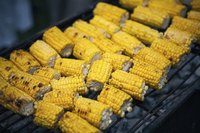 Bt corn is one of several crops that have been genetically engineered. Using biotechnology, scientists add genetic material from another organism that produces some sort of desired trait. In this instance, they have added a protein gene from the bacteria Bacillus thuringiensis, which kills particular types of caterpillars that cause major damage to corn crops. Controversy surrounds genetically modified organisms like Bt corn, and both sides have voiced its pros and cons.
Con: Monarch Butterfly Fatalities
According to Rakesh S. Chandran, Ph.D., writing for West Virginia University Extension, studies indicate Bt corn can contribute to the death of Monarch butterflies in the caterpillar stage. The corn creates a toxic pollen that covers milkweed--a food the butterflies feed on.
Con: Allergies
According to Chandran, genetically modified foods like Bt corn have been linked to allergies in humans, but he notes this has not produced a widespread effect.
Con: Reduced Crop Diversity
Strictly controlling the genetic components and production of the corn can reduce crop diversity. This can lead to a number of problems, including disease outbreak.
Pro: Reduced Need for Insecticide
Because Bt corn naturally contains a gene that repels its primary predators, this product reduces the need for general insecticides that can harm other species of insects that do not pose a risk to the crop, according to entomologist Ric Bessin, writing for the University of Kentucky College of Agriculture. Its selectivity also protects human and other animals from its effects--something regular insecticides cannot do as effectively.
Pro: Nutrients
The ability to genetically modify the corn can increase the amounts of vitamins and other nutrients available. This can be particularly beneficial in developing parts of the world, where nutritional deficiency is commonplace.
Pro: Food Supply
Genetically modifying corn and other foods allows for faster development of optimal crops. This can allow farmers to produce more food at a cheaper rate--reflecting in lower food prices for consumers. It also allows the food to grow and thrive in environments it would otherwise be unable to, according to Chandran.