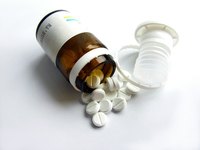 Phentermine HCL is a prescription medication that is used for the purposes of weight loss. It works as an appetite suppressant. Phentermine HCL should ideally be used in conjunction with a healthy diet and regular aerobic and weight training exercise. It is indicated for use among people that are extremely overweight and classified as medically obese. Phentermine HCL affects the central nervous system that has the affect of suppressing the appetite. As there are multiple side effects associated with taking this medication, the decision to take it should not be made lightly.
Gastrointestinal
One side effect that is associated with the use of Phentermine HCL is gastrointestinal distress and pain. This may include constipation, diarrhea, dryness of the mouth, gas and bloating. Symptoms are more severe in the beginning and may go away over time. To mitigate the side effects, begin with a low dose and work your way up to a higher dose if you choose to take this medication. It's important to check in with your doctor regularly while taking Phentermine HCL. If these systems become bothersome or do not lessen with time, seek medical attention.
Cardiovascular
Cardiovascular side effects that are often experienced while taking Phentermine HCL include high blood pressure, pulmonary hypertension, tachycardia and heart palpitations. Cardiovascular side effects often happen because Phentermine HCL causes a significant increase in heart rate. It's important to note that even if you don't suffer from any issues in this area, they may still arise. There really is no way to tell whether or not someone will suffer from severe cardiovascular side effects. If these side effects occur frequently or do not lessen over time, medical attention should be sought right away.
Central Nervous System
Phentermine HCL primarily stimulates the central nervous system. This can result in troubling side effects including anxiety, insomnia, tremors, headaches, dysphoria and dizziness. You may also experience depression, fatigue, or extreme irritability while taking Phentermine HCL. It depends on how your body responds to it.
Endocrine
Phentermine HCL can have side effects on the endocrine system. Namely, it can affect libido and sexual performance. Women may experience a lack of sexual desire. Men may suffer from a lack of sexual desire, as well as impotence.