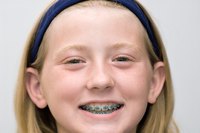 Many dental patients dread the diagnosis from their orthodontist that their smile needed corrective work. For a long time, traditional metal braces were the only alternative to going through life with crooked teeth. However, despite their many advantages, braces also come with a distinct set of disadvantages.
Job Completion Time
It takes longer for braces to straighten teeth, especially in adults. According to Family Gentle Dental Care, the average adult must wear his braces for a period of 18 months to three years. Moreover, there is a significant chance of a relapse in the alignment of your teeth.
Food Sacrifices
For braces to work, you must give up some of your favorite foods. According to Family Gentle Dental Care, candy, corn on the cob, raw carrots, pretzels, nuts, and popcorn are hard solid foods that can cause damage to the wiring of the braces. Individuals with braces must also avoid sticky foods, such as gum, caramel, or taffy.
Speech Defects
According to Bracesreview.com, you may develop a slight, temporary lisp as a result of the braces. This is especially true if the dentist installs a palatial expander in conjunction with your braces.
Discomfort
Maintaining your dental health involves monthly visits to the orthodontist, along with your regular dental checkups. According to Bracesreview.com, when you go to the orthodontist, he may have to readjust your braces. Depending on the level of adjustment, expect a day or two of pain and discomfort.
Oral Hygiene Difficulties
When it comes to braces, personal maintenance can be difficult, especially when it comes to flossing. The thread can tangle itself into the wire brackets, and can be hard to remove.
Sports Participation
You will have to wear a mouthguard during activity once you start wearing braces. While mouthguards are advisable anyway when playing sports, you especially should be careful to wear them during any high level of activity while wearing braces. Any hit in the mouth could damage the braces, as well as the teeth and the wire is vulnerable to bending and breaking.