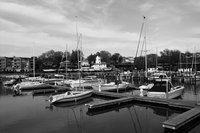 Retirement plans can be classified as either qualified or non-qualified. Qualified plans are tax-deferred plans such as 401k plans and IRAs that meet the guidelines of the federal Employee Retirement Income Security Act. Non-qualified plans don't meet these guidelines and allow for more flexibility with contributions and, in some cases, distributions of the savings.
Annuities
An annuity is a tax-sheltered investment offered by insurance companies that can be qualified or non-qualified. You can contribute large amounts of savings into a non-qualified annuity that will grow tax-deferred until you reach age 50½. Since the contributions were not tax-deductible, you will pay taxes only on the earnings in the account. There are different types of annuities to satisfy both conservative and aggressive investors. Conservative investors can use fixed annuities that guarantee a specific rate of return over a period of time. Variable annuities have mutual fund sub-accounts to allow more aggressive investors the ability to invest according to their risk tolerance.
Deferred Compensation Plan
A deferred compensation plan is an employer-designated non-qualified plan. The employer agrees to make compensation payments at a future date, usually in retirement. Most defined compensation plans have specific conditions that must be met by the employee before he can receive the compensation. A common condition is to have served with the company for a specified number of years or continuously through retirement.
Savings Account
A savings account is probably the simplest form of non-qualified retirement plan. It is a very flexible investment option where you can contribute as much as you want and take money out without penalty whenever you want. The contributions are post-tax, and the interest earned annually is taxed. Most savings accounts are insured by the Federal Deposit Insurance Corp. as long as they are held in a FDIC member institution.
Money markets are a different type of savings accounts that usually require a minimum balance but offer a slightly higher rate of return. For funds set aside for long-term retirement goals, time certificates offer a higher rate of return for holding the money in the bank account for a predetermined amount of time.