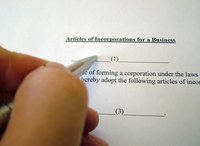 The legal structure you select for a business will have a significant impact in terms of taxes, asset protection and decision making. Each type of business entity has its own advantages and disadvantages. The type of company you're operating will determine the business entity that's best suited to help you accomplish your business goals.
Corporation
Corporations are required to file articles of incorporation at their secretary of state's office. A business may elect to form a C corporation or an S corporation. Owners of a corporation are known as shareholders. C corporations may have an unlimited number of shareholders, while S corporations can have no more than 100 shareholders. C corporations are subject to double taxation, while shareholders in an S corporation are allowed to pass their share of profits and losses to their owners' individual tax returns. Corporations are more complex in terms of paperwork requirements when compared to other business entities.
Limited Liability Company
A limited liability company is a newer type of business entity. It has elements of a corporation and a partnership. Owners of a limited liability company are called members. LLC articles of organization must be filed with the secretary of state's office. The fee to file articles of organization varies from state to state. All states allow single-member LLCs. LLC owners are allowed to pass profits and losses to their tax return instead of filing a company tax return. A big advantage of LLCs and corporations is personal liability protection from business creditor claims.
Sole Proprietor
A sole proprietorship is the easiest business entity to form. A sole proprietor has one owner, responsible for making all business decisions. If you elect to use a name other than your own, you'll be required to file a DBA at your secretary of state's office. Additionally, a sole proprietor's business revenue is taxed at their personal income tax bracket. The biggest drawback to forming a sole proprietorship is the personal exposure to liability. If a sole proprietor accumulates significant business debts, business creditors may pursue their personal assets.
General Partnership
Partnerships must have at least two individuals who enter into an "at will" oral agreement or a written partnership agreement. Written partnership agreements specify terms that must be adhered to such as conditions of termination and partner responsibilities. Partners are allowed to pass their share of profits and losses to their tax return. Partners are held personally liable for the debts of the partnership. This is dangerous because one bad partner can spoil things for the other partners.
Limited Partnership
Limited partnerships are similar to general partnerships. However, a limited partner is held liable up to the amount of his capital investment. A certificate of of limited partnership must be filed at your secretary of state's office. A written partnership agreement must be on file to form a limited partnership. Limited partners don't take an active role in the management of a partnership.