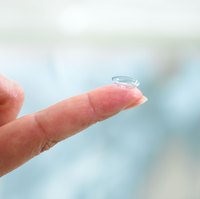 A common side effect of wearing contact lenses is that the eyes become dry and irritated. According to EyeCareSource.com, there are more than a dozen types of eye drops in your local pharmaceutical aisle to choose from, so it's difficult to know what type of eye drop will work best for you and your symptoms. One of the best solutions is to read reviews from other users and decide which type of drop sounds best for you.
Systane Lubricant Eye Drops
According to Systane, its eye drops are preferred two to one by dry eye sufferers. The Systane website provides testimonials from people who have used these drops and found them to work better than others. When used before or after wearing contacts, the drops help prevent dry eyes and increase the length of comfortable wear time for contacts.
ReNu MultiPlus Lubricating & Rewetting Drops
ReNu eye drops are specifically made for people who wear contacts. These drops can be used while the contact is being worn to add moisture without causing damage to the eye. MultiPlus Lubricating & Rewetting Drops is a new product as of 2009 and claims to soothe eyes and moisturize eyes better than any other product. Reviews from users are available on Drugstore.com.
Allergan Complete Blink-N-Clean Lens Drops
These Allergan Complete Blink-N-Clean Lens Drops received the best rating of all eye drops for contact lens users from GoodGuide.com. With a total rating of 7.7 out of 10, the rating came from overall health performance, environmental performance and social performance. The ingredients are safe, and the results are positive for those suffering from dry eyes or allergies.