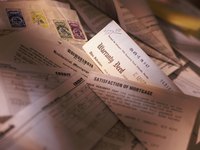 If you're thinking of taking out a mortgage loan or refinancing a current one, you've probably at least considered working with an online mortgage broker. Applying for a mortgage through the Internet is a quick process. You won't have to meet in person with a loan officer, and you may not even have to talk to one on the telephone.
Taking out a mortgage loan this way isn't for everyone. Some people want the advice and counsel that you can only get when meeting in person with a loan officer. But if you think an online brokerage is right for you, there are several experienced Internet-based brokers from which you can choose.
LendingTree
LendingTree might be the best known of the online mortgage brokers. By logging onto the site, you can enter your financial information and some basics about yourself and the home you hope to purchase. LendingTree will then send this information to its network of mortgage brokers. Up to four of these brokers will send you loan offers.
Using LendingTree is a way to quickly determine what kind of interest rates and loan programs you can expect from mortgage lenders. You are under no obligation to accept any of the offers that the company provides.
LendingTree is an example of how online mortgage brokerages usually work: The online company itself most often does not provide mortgage loans. It instead works with traditional mortgage brokers who compete for your business.
LendingTree 11115 Rushmore Drive Charlotte, NC 28277 (800) 555-8733 lendingtree.com
Quicken Loans
Quicken Loans is a rarity: an online mortgage lender that actually originates its own loans. By logging onto the site, you can apply for standard 30-year and 15-year fixed-rate mortgages. You can also apply for adjustable rate mortgages, FHA loans and VA loans.
As with any other mortgage lender, you'll have to provide important paperwork to qualify for a loan. This includes pay stubs from your place of employment, your tax returns and your savings and checking account statements.
Quicken Loans 20555 Victor Parkway Livonia, MI 48152 (800) 710-1755 quickenloans.com
Ditech Home Loans
Run by mortgage giant GMAC, Ditech Home Financing also provides a range of mortgage products, everything from standard 30-year fixed-rate mortgages to FHA mortgages to jumbo mortgage loans.
The site allows you to sign nearly all of your mortgage documents online--eliminating the need for in-person meetings or faxing--and provides live customer service 24 hours a day, seven days a week. You can also apply for a refinance through Ditech's website.
Ditech Home Loans 3200 Park Center Drive Costa Mesa, CA 92626 (800) 348-3243 ditech.com