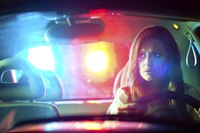 If an Ohio driver has his license suspended for any reason, the law forbids him to operate a motor vehicle on public roads and highways during that suspension. He also cannot operate a motor vehicle on public or private property used by the public, such as parking lots. This law applies whether he has a regular or commercial driver's license, or any other type of provisional permit.
Reasons for Suspension
Certain offenses -- such as causing an accident and leaving the scene without filing a report, or driving under the influence of drugs or alcohol -- require that the driver's license be suspended under Ohio law. These suspensions are imposed by judges.
The Ohio Bureau of Motor Vehicles can suspend licenses as well -- for example, for failing to show proof of insurance. In addition, drivers get points on their licenses as a result of violations such as speeding tickets. If a driver racks up 12 points on his license within a two-year period, his license will be suspended.
Penalties for Driving Under Suspension
Although Ohio law classifies all convictions of driving under suspension as a first-degree misdemeanor, penalties vary depending on why the license was originally suspended. The penalties are most severe if the license was suspended following an arrest for driving under the influence of drugs or alcohol, or the accumulation of 12 points. Such a conviction can result in up to six months in jail, additional suspension time, fines and another six points on the driver's license. For repeat offenders, Ohio law gives judges the ability to order the car immobilized and plates impounded for 30 or 60 days.
Limited Driving Privileges
Ohio judges can grant limited driving privileges when they impose suspensions in some cases. Typically, these privileges allow the person to drive to work or school, or for medical reasons. State law prohibits limited driving privileges for drivers whose licenses are suspended for certain reasons, such as failure to file a crash report or failure to pay child support.
If the suspension was imposed by the BMV and the driver wants limited driving privileges, he first has to file a petition with the court in the county where he lives and have the case heard by a judge.
License Reinstatement
Once the suspension period is over, drivers can begin the process of getting their license reinstated. In some cases, they may have to retake the driving exam or submit proof of insurance.
All drivers must pay reinstatement fees. The fees, along with documentation of any other reinstatement requirements, can be mailed to the BMV. Fees also can be paid online or by calling a toll-free number.
If a driver's reinstatement fees are more than $150, Ohio law allows him to get a valid license if he pays at least $50 a month until the fees are paid in full. If he's satisfied the other requirements, he can start driving before the fees are paid as long as he keeps up with the installments.