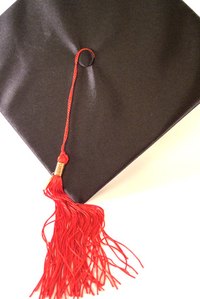 Graduation is a special time in the life of a student, his family and the community in which they live. Whether it is the innocence of a kindergarten class graduation or the pomp and circumstance of doctoral candidates' realization of the highest academic achievement, it is an occasion to be acknowledged by those intimately involved in the event and those in the larger community as it reaffirms mankind's long legacy of academic pursuit.
Alumni Awareness
Communicating an upcoming graduation to alumni, especially at the college level, is an important undertaking for that institution. Graduation is a time to invite alumni back to the school to see and hear about initiatives undertaken by the school to continue its mission of providing a superior post-secondary education. This is also an excellent time to solicit alumni for financial contributions.
Advertising to alumni should take the form of a formal printed invitation to the ceremony with information about other events taking place around graduation such as spiritual convocations, banquets or musical tributes. Consider placing display ads in the alumni newsletter, webpage or other formal networking channels.
High School Outreach
For many people, high school will be the highest academic achievement of their lives and so should be acknowledged. Get some free advertising for a high school class by soliciting local business establishments to acknowledge the outgoing class by advertising in community newspapers. Past graduates may be interested in attending the high school's graduating class ceremony and can be made aware of the event with posters. Place printed posters in the windows of frequented businesses such as the dry cleaners and convenience stores. Advertise your graduation event for free on community event boards on local TV and radio.
Grade School Grads
No one loves a graduation more than grandparents, yet they are often given short-shrift at grade school graduation time. Bring them into the loop by having grade school grads create personalized graduation invites that get mailed or handed out to grandma and grandpa, a special aunt and uncle, even the neighbors.
This simple act elevates graduation in the eyes of the youngster and may foster a pride of accomplishment that will ensure she stays the course with academics through high school and beyond. Some pessimists deplore graduation ceremonies for grade schoolers as celebrations of mediocrity. With high school drop-out rates as high as 12% among some student populations in the U.S. according to the National Center for Education Statistics, any graduation is a cause for celebration.