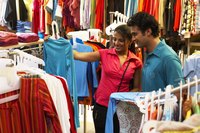 Small-business owners often make the mistake of trying to increase sales of a struggling product by ramping up advertising, public relations and promotions before conducting a thorough marketing analysis of the situation. Reviving a dying product is often best remedied by identifying why the product is declining using an analysis of the marketing mix.
Why Products Die
Products die for a number of reasons, such as obsolescence, poor promotion, ineffective distribution and poor pricing. In some cases, the problem is one of these. In others, it's a combination. Business owners must conduct a thorough analysis of why a product is struggling, specifically examining internal and external factors that have changed since the product was successful.
What is the Marketing Mix?
Marketing is more than promoting a product. It includes the "Four Ps" of creating and delivering a product into the marketplace. These are product, price, place and promotion. If any one of these areas is not properly managed, it can doom a product, even if consumers want what a company is selling.
Analyze Your Product
Take a look at what you're selling in terms of the benefits it offers. If you are trying to create a demand in the marketplace rather than satisfying a need, that might be the reason your product is dying. Consumers look for benefits such as a lower price, higher quality, safety, status, convenience and quick delivery. Hold focus groups and conduct surveys of your customers and potential buyers to learn why they buy or don't buy your product, and what they think of your competitors. Based on this feedback, you might need to tweak your product or completely overhaul it. For example, your customers might prefer fewer features in exchange for a more reliable, maintenance-free product. Creating a product the marketplace wants requires knowing exactly who your target customer is, so create a demographic profile of your ideal customer. Compare your product with its competition to determine the unique selling differential of each to see if that's why your product is declining.
Review Your Pricing Strategy
Examine your competition to determine if your pricing strategy is killing your product. Go beyond sales prices to determine the true cost of the product to customers. For example, a key driver of online sales is free shipping, according to the 2014 Walker Sands Communications online retail study. If your competition offers a better warranty, customers might believe their overall cost is less than yours, even though your initial purchase price is lower. During focus groups and surveys, you might find that your customers will accept fewer features in exchange for a lower price. Consider lowering your price to take market share from competitors, or raising your price to create a higher perceived quality and value in the marketplace.
Examine Your Distribution
If customers can't get your product, can't buy it conveniently, or can't get it in the time frame they want, that might be why your product is on the downswing. Examine your distribution channel options, which can include brick-and-mortar retailers, online sellers, distributors, wholesalers, contract sales reps, direct-order advertising and direct mail. Ask potential customers if free or low-cost overnight, one-day or two-day shipping would make them more likely to buy your product.
Re-Assess Your Product Promotion
Create marketing communications to send the new message you want customers to hear. Create a consistent message, or brand, among your advertising, public relations, promotion and social media communications. Depending on the reason your product started to die, create a new message and/or re-brand. Using the knowledge of the target customer you determined in your product development research, choose promotional outlets that will reach your exact audience.
Targeted Tips
Hold focus groups to unveil product upgrades to gauge customer reception before you release a re-designed product. Educate potential customers about the benefits of your product by writing expert articles for newspapers, websites and magazines. Hold a prize quiz on your website or social media platforms that requires consumers to answer questions about your benefits. Consider test marketing different prices in different markets before you commit to a price change. Test-market different distribution channels to evaluate their impact on total sales, revenues, profit margins, re-sales and gross profits. Don't commit your entire promotional budget until you've tested several communications options and reviewed the results.