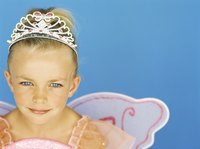 A fairy is a mythical creature, often resembling a miniature person with wings. Whether you're drawing a fairy or dressing up a child as a fairy, fairies are known for being both beautiful and ethereal, similar to a butterfly. When drawing a fairy or making a fairy costume, stay in a magical, whimsical mind-set.
Long, Flowing, Natural
Leave the hair long and flowing and maybe with a little bit of curl at the bottom. If the fairy is a child in costume, curl it with an iron just a little bit and spritz it with hairspray. If the fairy is a drawing, remove the curl, making it ram-rod straight, and exaggerate the length.
Flowers
Place a crown of flowers around the top of the head, or place a flower in a special location like behind the ear. The flowers can match the fairy's outfit or stand in contrast to the hair as an accent (example: a bright-blue flower against raven-black hair is an impressive accessory).
Braids
Braid a crown braid around the crown of the head. Place a few stray flowers in the braid. Alternatively, leave the hair long and straight down the back, but braid a section of hair on the side. Place a flower at the end of the braid, or wrap the braid in a ribbon with small glass beads on the end.
Tinkerbell Style
Place the hair in a bun or a short pony-tail at the back. Fluff up the bangs. Note: Tinkerbell was a blonde.
Accessories, Gels
Once the hair has been styled, decorate the finished product with several long ribbons of colors that match the outfit, in place of flowers. A comb with curly designs, butterflies or flowers on it will also work. If the fairy is a girl in costume, put sparkle-gel in her hair. You may want to paint sparkles on her face, if you go this route, to give her an extra-whimsical appearance.