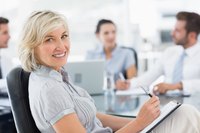 The best business leaders who run the most successful companies rarely, if ever, achieve their stature and status on luck alone. While some famous professionals attended business school and chose programs that focused on their area of interest, many others -- including Henry Ford, Jimmy Dean and Mary Kay -- found their own unique path toward success and developed their own set of business qualities that entrepreneurs following in their footsteps have emulated.
The Art and Science of Communication
A good business leader grasps the essential need for stellar communication skills. Whether drafting effective letters to clients, emailing the board of directors, taking phone calls from clients and colleagues, or texting consultants, communication is the cornerstone of good business qualities. Communication often equates to accessibility; if a client cannot reach the desired party, he might not feel appreciated and may consider moving on to someone who has time to return messages.
Taking Risk With Verve and Passion
Risk-takers are interchangeable with innovators because they take a vision and run with it, believing in it until it explodes into success or crashes to failure. Even if the idea doesn't come to fruition, the risk-taker rarely sees that as an end to the project but, rather, a reason to take another route toward success. With this kind of ambition, the benefits greatly outweigh any downside, at least in the long run.
There is No "I" in Team
A strong business leader regularly acknowledges his team as a critical part of his success. Recognizing team efforts offers the benefits of freely shared ideas from staff while furthering the success of the business. A good business professional takes the time to reward key staff, especially those who have achieved great success with a recent project, to help keep everyone motivated and excited to share their own innovations to help benefit the company.
Knowing the Company
From the fundamentals of the company's mission statement to the functions of various teams and the goals for different projects, it is essential that a good business professional is knowledgeable about everything that falls under the company's umbrella. While challenging to achieve this ongoing effort, this quality does not go unnoticed by staff, peers, superiors and clients. Showing regard for the company's many functions, people, assets and goals shows humility and genuine care for the company, which is often contagious among staff and peers.