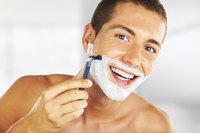 Shaving doesn't come cheap; combine creams and expensive materials, and a month of decent shaving quickly becomes a substantial expense. Because shaving takes just as big a chunk out of your budget as it does your beard, choosing the best possible razor is especially important. Ultimately, the choice boils down to your needs and preferences, but knowing what to look for is the first step to snagging a beard-busting blade.
Cartridge Characteristics
Cartridge-based razors dominate the market, often relying on an ever-increasing number of blades to catch your attention. Don't get caught up in these blade battles; after about three blades, there's little difference in the closeness of the shave. Focus instead on the quality of the blades themselves -- seek high-grade, precision-milled steel for the smoothest shave. Lubricating strips on the cartridge also contribute to a comfortable shave. Razors with super-hydrophilic self-lubricating strips -- or those that produce a slick gel on contact with water, negating the need for shaving cream -- cut down on friction in a big way.
Keep Safety in Mind
Although they may look intimidating and pose a slightly steeper initial investment, safety razors actually cost substantially less than their cartridge-based brethren in the long run -- you can score 100 double-edged razors to use with a permanent safety razor handle for less than the cost of five or six modern cartridges. Additionally, safety razors offer a quicker and closer shave than cartridge razors, as well as greater durability. Although the size of the handle ultimately boils down to preference, long-handled straight razors typically offer better control and comfort.
Straight Away
If you're willing to go even more old-school than safety razors, the straight razor takes more time to learn, more time to shave and more time to maintain than other razors, but it can't be beat in terms of closeness. Although the initial investment is higher than any other type of razor, a well-maintained straight razor can last for years and years. Seek a razor with a bit of durable heft and a handle that naturally fits the curve of your hand, offering you greater safety and more precise control of your shave. For the sharpest blade, look for pure stainless steel, carbon steel or surgical-grade steel.
Pro Recommendations
Although the best razor is simply the razor that's best for you, professional reviews can help set you on the right track. "Forbes" magazine places the five-bladed, self-lubricating Hyperglide from King of Shaves at the top of the cartridge-razor heap. Gizmodo recommends the Merkur Long-Handled Safety Razor paired with Personna Double-Edged Razor Blades for what it dubs "a brilliant shave." For the sharpest and closest straight-razor shave, the razor retailers at A Penny Shaved tout models from Luxor, Giesen and Forsthof and -- if you're willing to shell out a few hundred dollars -- luxury razors from Thiers-Issard.