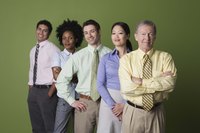 Employers generally require that their hourly workers complete a weekly time card or punch a time clock, which details the employee's hours worked each day. Time cards simplify payroll processing and record keeping because the in and out punches can rarely be disputed. The government has implemented certain time-keeping laws for employers to follow. Further, the employer may create his own policy that employees must adhere to.
System Choice
According to the U.S. Department of Labor, Wage and Hour Division, an employer can use the timekeeping system of his choice as long as it is complete and correct. For instance, the employer may install a time clock, which the employee must punch when he arrives to work, takes breaks and lunch, and leaves for the day. The punches are printed on the timecard, making it difficult for the employee or anyone else to change inconspicuously.
Rounding Hours
The Fair Labor Standards Acts (FLSA), regulated by the U.S. Department of Labor's Wage and Hour Division, permits employers to round employees' time cards up and down to the nearest quarter hour. The employer is in violation of the minimum wage and overtime income requirements, if he is always rounding down. Minutes from 1 to 7 should be rounded down while minutes from 8 to 14 should be rounded up. For instance, say the employee's time card reflects in–8:10 a.m. and out–5:05 p.m. Round 8:10 a.m. up to 8:15 a.m. and round 5:05 p.m. down to 5 p.m. In rounding up and down, the employee may gain or lose minutes slightly.
Overtime Compensation
The employee must receive overtime compensation if rounding resulted in him gaining the overtime hours, according to the FLSA. For instance, suppose an employee's time card for Monday to Friday reflects in–7:50 a.m., lunch in–12 p.m., lunch out–1 p.m., out–5:10 p.m., equaling 9.50 hours total for each day. Minus one hour for unpaid lunch, leaving the employee with 8.50 hours for each day. He has gained 30 minutes of paid overtime hours for each day because of rounding.
Time Card Submission
The employer decides when time cards must be submitted to the appropriate department. For instance, to ensure proper and timely payroll processing, the employer may request that all time cards be submitted each Monday by 8:15 a.m. The employer and his supervisor must sign the time card. The payroll personnel should return unsigned time cards to the appropriate parties for signatures.
Retaining Time cards
According to the Wage and Hour Division, employers should retain time cards for two years. The employer must allow these records to be inspected if the Wage and Hour Division requires it. Time cards can be kept at the workplace or at a central records office.
Grounds for Termination
Generally, companies include falsifying time cards as grounds for termination in their human resources policy manual. Neither the employee nor his supervisor is allowed to falsify the time card.