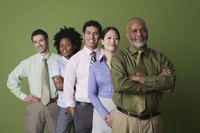 When a person has the natural qualities of leadership, he may be recognized early in his career. Employee performance reviews are opportunities for managers and business owners to identify future leaders. While many people make great employees, they are not all leaders. A leader has special talents, and there are 10 telltale signs that can typically be found in an employee review.
Good Communication
Natural-born leaders know how to communicate with others, both verbally and written, and know how to listen. Their work should be easily transferable and organized.
Team Players
Employees who have leadership potential get along well with their peers, subordinates and superiors. Clients enjoy working with them and co-workers trust them. Leaders communicate their contributions and share credit with others.
Adaptable
Leaders are flexible and can adapt to changes or new initiatives quickly. Their work does not suffer if they need to change accounts, transfer to different departments or switch partners. They don't complain or whine when the management team rolls out new information.
Teachable
Employees who continue to learn, want to improve and strive to win have leadership qualities. Leaders ask for more responsibilities or development classes and show signs of wanting to learn.
Teach Others
Leaders are natural teachers and coaches and can be identified by looking at their actions. They help train new employees and mentor junior coworkers to help them tap into their own leadership qualities.
Even-Keeled Emotions
When an employee keeps her cool in stressful situations, does not lose her temper and does not wear her emotions on her sleeve, she may be a leader. Passion is good, while anger and immaturity is not.
Problem Solvers
Leaders typically are visionaries and can be counted on to come up with innovative ideas to improve processes and generate revenue. They usually have forward-thinking perspectives and look for solutions on a regular basis.
Know Themselves
True leaders understand their strengths and weaknesses. They take criticism well and admit their mistakes. Self-reflection is part of how they grow.
Self-Discipline
Future leaders have good attendance and meet deadlines. Time lines are followed, and they communicate when they need help. Leadership carries responsibilities, and a leader must be dependable and reliable.
Risk Takers
True leaders take risks and accept that defeats are learning opportunities. They are responsible, yet take calculated risks that can have big payoffs. They want to achieve excellence and are not afraid of taking chances.