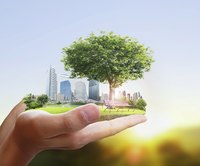 As pressure grows from customers, investors and government agencies, many of the top companies in America are adopting environment-friendly policies. A report from the research company Corporate Knights Capital shows that 88 of the 100 largest companies in the United States disclose their energy usage and greenhouse gas emissions, and 65 of them disclose their water usage. Newsweek magazine has worked with Corporate Knights Capital to assemble a list of the top "green " companies in the U.S.
Allergan - Health Care
Allergan is a worldwide pharmaceutical company known for products such as Botox, the botulism-based neurotoxin used to remove facial wrinkles, and the Lap-band, a surgical weight-loss device. Allergan has been tracking its environmental sustainability accomplishments since 1992. As part of its environmental mission, Allergan has taken steps to reduce its greenhouse gas emissions, energy consumption and industrial waste production. Overall, the company has increased its recycling rate from 29 percent in 1995 to 76 percent in 2013, with some branches reporting a 100 percent recycling rate.
Adobe Systems - Information Technology
Adobe Systems is the developer of such computer software as the Acrobat document reader, the Flash multimedia presentation platform and the Photoshop image editing package. Adobe has increasingly moved away from physical packaging of its software and toward electronic delivery systems. In 2013, the company delivered more than three-fourths of its licensed software products electronically. All Adobe facilities recycle paper, cardboard and printer ink cartridges, and they using compost piles to break down food waste, landscaping waste and food containers.
Ball Corp. - Materials
Ball Corp., makers of the classic Ball Mason jar, is also the world's largest manufacturer of recyclable beverage cans. According to its fourth biennial sustainability report highlighting 2012 and 2013 progress, more than half of Ball's 61 manufacturing facilities send zero waste to landfills. The company has increased from 54 percent in 2012 to 65 percent in 2013 the amount of waste either reused or recycled. It sponsors numerous can recycling programs across the U.S. and Europe.
McCormick - Food Products
Maryland-based McCormick & Co. produces kitchen spices and flavor mixes for the consumer market as well as for large-scale food production projects. A 368,000-square-foot McCormick distribution facility became the first building in the state of Maryland to achieve "net-zero" energy consumption status, which means the building produces more electricity than it uses. The company achieved net-zero status by installing more energy-efficient light fixtures, occupancy sensors and air conditioning systems. McCormick also achieved a perfect score on Newsweek's "Reputation" scale, as the company was not mentioned in any stories related to environmental violations.