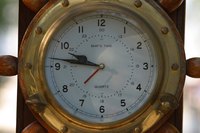 The New Haven Clock Company originated in 1853 in New Haven, Conn., and established a reputation for the quality of its timepieces during its history of just over 100 years. Initially, the company made brass clock movements for the world-renowned Jerome Manufacturing Company, which it eventually purchased in 1856. By the early 1900s, New Haven was among the largest American clock companies.
1853 to Early 1900s
Until 1904, New Haven clocks bore a "Jerome & Co.," label, a tribute to the international standing of that company. Among the Jerome clocks was an 1860 mantel clock called "The Duchess." This clock had a handsome rosewood veneer case and an angled top. It featured Roman numerals and a glass window that showed off the movement of a pendulum.
In 1906, the company manufactured the Reita Ormolu Gold Cupid Mantel Clock, continuing its tradition of superb craftsmanship. This clock had a gold plated, cast bronze case, and beveled glass. It stood about seven inches high by four and one-half inches wide, with a one-day key wind movement.
Early 20th Century
The New Haven name was synonymous with elite china clocks, specially created for more affluent buyers from the period of the Victorian era (1832 to 1900) through the early 20th Century. One example was the Boudoir Clock, a Victorian Era timepiece with a design of hand-painted pink roses and green trim, signed by the artist. This clock was a delicate five inches long by about three and one-half inches high.
The company's "Camden Line" of solid oak clocks included a Gingerbread Wood Mantel Clock (circa 1907), standing about 23 inches tall by 13 and one-half inches wide by four and one-half inches deep. This clock had an elaborately carved wood frame, and an etched-glass door with a leaf pattern. It also featured Roman numerals, and an ornate golden pendulum. It chimed on the hour and half hour.
1920s to 1940s
The New Haven Company introduced its "Tambour Clock " (model #70) around 1920. This clock chimed on the hour and the half hour. It was a purpose-made mantel or shelf clock.
The "Winsome" Banjo Wall Clock was a product of the 1940s. It was about 25 and one-half inches tall, with the figure of an eagle perched at the top of the painted mahogany casing. The clock had a six-inch diameter brass bezel, a pendulum and a wind-up key. This clock did not have a chime function.
End of an Era
The New Haven Clock Co., also manufactured dollar pocket watches, wristwatches, and grandfather clocks. Except for World War II, when New Haven turned its attention to manufacturing war materials, the company was actively making timepieces until 1960, when it went out of business.
Today, many New Haven timepieces are available for sale at auction or specialist websites, and included in Tran Duy Ly's book, "New Haven Clocks & Watches," published by Arlington Books in 2000.