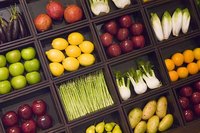 Doctors recommend you keep your cholesterol levels below 200 milligrams per deciliter for optimal heart health. Getting that number down involves more than just cutting cholesterol-laden foods out of your diet. Certain foods will raise your HDL or "good" cholesterol levels while lowering the "bad" LDL levels, while a few lifestyle changes will make your body better suited to eliminate the bad cholesterol.
Get Up
Before you focus on diet, start an exercise regime of at least 30 minutes of moderate physical activity a day. It could be as simple as a brisk walk. This will lower your weight and body mass index, which in turn will lower your cholesterol. Always check with a doctor before embarking on any exercise program.
Target Trans Fats
Synthetic trans fats elevate cholesterol levels, so eliminate them from your diet as much as possible. Most products label for trans fat content, but be wary that something labeled "zero trans fat" might actually contain trans fat, as they can claim this as long the trans fat content is less than 0.5 grams per serving. Check ingredients for hydrogenated or partially hydrogenated oil or shortening, a sure sign of trans fat.
E is for Excellence
Increase your intake of the fat-soluble vitamin E. Sweet potatoes, crab, fish and whole wheat bread contain high amounts of this vitamin, and it is available in supplements as well. People with diabetes or high blood pressure should check with their doctors before taking a supplement, however.
Bottoms Up
An alcoholic drink a day can lower cholesterol levels. Red wine is ideal, because of the antioxidants in grapes, but any alcohol in moderation can make the number fall. Don't overindulge, though.
Add Olive Oil
Find ways to get more extra-virgin olive oil in your diet. It contains antioxidants and can help lower LDL levels without lowering HDL levels. Saute your vegetables in it, substitute it for butter on bread or mix it with vinegar for a healthy salad dressing.
Find Fiber
Ten grams of soluble fiber per day will lower both overall and LDL cholesterol levels. A bowl of oatmeal with fruit, such as sliced banana or apple, will give you that amount before you leave the house. Other sources include kidney beans, barley and pears.
Nuts To You
Walnuts, almonds and other nuts are rich in polyunsaturated fatty acids that promote a healthy cholesterol level. Keep your intake to a handful, however. Nuts also are high in calories, so too many will cause weight gain.
Fatty Fish
Eat at least two servings of trout, tuna, salmon, mackerel or other fatty fish per week. The omega-3 fatty acids in them not only lower cholesterol but prevent blood clotting and lower blood pressure, too. Bake or grill your fish, however, as frying will counteract their healthy benefits.
Spice Things Up
Several herbs will help lower cholesterol. The best, according to the Herbal Supplements Guide, are green tea, olive leaf, turmeric, ginger and guggulipid, or myrrh. Brew a nightly cup of tea, spice up your favorite dish with turmeric or ginger or check a health foods store for extracts of these herbs.
Call in the Pros
Genetics play a big role in cholesterol levels, so sometimes even your best efforts might not get the numbers you want. Check with your doctor about cholesterol-lowering medications, particularly if you are a smoker, are obese or have other heart disease risk factors.