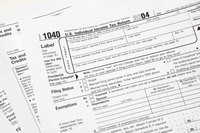 There is no escaping death and taxes, and this includes the responsibility of a deceased person's estate toward the payment of back taxes. Non-payment of back taxes can hold up the probate process or result in a lien being placed on all the estates assets. The executor of the estate is responsible to handle the resolution of the back tax issue.
Back Taxes
Back taxes are taxes the deceased owes or did not pay for a previous tax year. These taxes can be requested from the federal government, such as the IRS, or the state or local city tax agency. The taxes can be due from a payment plan, in which the deceased was making payments on taxes owed, or because the deceased did not pay the tax when due. Back taxes may include penalties and interests in addition to the actual taxes owed.
Responsibility for Payment
The estate of the deceased is responsible for payment of the back taxes. If the deceased dies without an estate and there is no money to pay the back taxes, the children are not responsible for the payment. If a surviving spouse filed a joint return with the deceased in the year the back taxes are due, the spouse may be held responsible for the back taxes. As these issues are specific to a state, contact a local attorney for a consultation.
Back Taxes
The resolution of back taxes will be required before an estate can be distributed to the heirs of the estate. Two possible methods of resolution include negotiating the amount of the back taxes with the taxing agency or paying the amount of the tax in full for a complete resolution. All other debts are required to be resolved and all creditors notified before a probate case can close. This includes the filing of current federal and state taxes for the last year of the decedent's death.
Payment Funds
The payment for back taxes comes from the money in the estate. However, in most states the title of certain real property automatically transfer on death, such as joint tenancy or property with title held in "right of survivorship." Some states immediately vest the title of a home in the surviving spouses name and other states transfer insurance policies directly to the beneficiary. As current state and federal law may have a bearing as to certain assets and the ability to use the assets to pay creditor claims, including back taxes, consult a local tax and probate attorney for a consultation about your case.