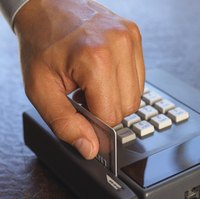 Businesses process credit card payments through an intermediate merchant services company. The salespeople who represent those companies earn their money based in part on how much they sell, how much money their company makes from each customer, and a base salary.
Salary Information
The U.S. Bureau of Labor Statistics includes merchant credit card sales agents in the broad category of "Securities, Commodities and Financial Services Sales Agents." The median wage for these professionals was $70,190 in 2010. The middle 50 percent of workers in this category made between $40,860 and $124,450. As a general rule, merchant services sales agents earn in the lower half of this wage scale, between $40,000 and $70,000. Their services don't carry the large volume a successful commodities broker might.
Regional Data
The highest demand for workers in this category in 2010 was in New York, California, Texas, Illinois and Florida. The highest wages earned by these professionals in that year were in New York, Connecticut, New Jersey, Illinois and Delaware. Sales agents willing to move would do well to consider Illinois or New York, as they appear on both regional lists.
Commissions and Carryover
A large portion of a merchant credit card sales agent's income is derived from commissions -- a percentage of the money their sales earn for the company. In many merchant credit card sale positions, the agent also gets continuing income from sales that continue to pay his parent company. Over the course of years, this can add up to significant income as the commissions begin to "stack" up.
Job Outlook
The BLS anticipates that job opportunities in this field will grow by 9 percent between 2008 and 2018, only slightly higher than the 8 percent average growth expected for all occupations. This is due mostly to the close link between demand for business services and the growth of the economy and population as a whole.