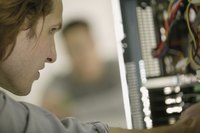 One component of federal labor law is the distinction between exempt and nonexempt workers. An exempt worker is someone to whom certain aspects of the federal labor code do not apply. In other words, employers do not have to follow some wage and hour laws for exempt employees. Employers otherwise must follow all provisions in the Fair Labor Standards Act, the primary labor law at the federal level.
Significance
The major areas in which exempt status makes a difference in federal labor laws are minimum wage and overtime. Employers do not have to follow minimum wage laws with respect to exempt employees, nor pay them a premium rate for overtime hours. For nonexempt employees, according to the Fair Labor Standards Act, employers must pay them 1.5 times their usual wage for all time they work past the 40-hour mark each workweek. The minimum wage is $7.25 an hour, as of 2011.
Definition
Employees are exempt if they meet the definition in the FLSA. Exempt employees must receive pay as a salary, rather than an hourly wage, and have certain specified job duties. These duties generally involve white-collar or managerial work. Federal regulations classify job duties as exempt if they fall into the categories of executive, administrative, professional or outside sales. The professional exemption, the most wide-ranging, encompasses intellectual criteria such as medicine and law and creative endeavors such as writing and acting.
Clarification
Although technically both minimum wage and overtime laws do not cover exempt employees, those who meet the definition of executive, administrative, professional or outside sales have a higher minimum wage for practical purposes. According to federal regulations, the exemption applies only if an employee's salary is at least $23,660 a year, or $455 a week, as of 2011. Assuming a 40-hour workweek, the federal minimum wage comes out to $290 a week and $15,080 a year. So the minimum an exempt employee would earn is higher.
Other Groups
Specific groups of employees are exempt by edict of the U.S. Department of Labor regardless of their salary level and job duties. For these workers, the lack of minimum wage coverage is more significant because employers can pay them any amount they choose. Some of the most common exemptions in this category are for employees of seasonal and recreational establishments and employees of small farms. In addition, minors who work on small farms with parental consent are exempt from child labor laws relating to age limitations.
Overtime Groups
FLSA regulations also list groups of employees to whom minimum wage laws still apply, but not overtime laws. Employers can pay these employees their usual wage even for time worked after 40 hours per week. These groups include computer professionals who earn at least $27.63 an hour as of 2011; drivers, drivers' helpers, loaders and mechanics who work for motor carriers and whose job duties "affect the safety of operation of the vehicles in transportation of passengers or property in interstate or foreign commerce," according to the Department of Labor; all farm workers; and salespersons and mechanics who work for auto dealers.