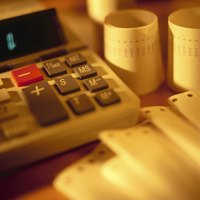 Bookkeeping is the systematic keeping of written records of money coming into and going out of an account or accounts. The simplest type of bookkeeping is single-entry bookkeeping, typically used by individuals when balancing checkbooks or by small businesses that deal in cash. In single-entry bookkeeping, each debit or credit is recorded just once, making it a simple system for keeping track of the flow of funds for any account.
Features
The main feature of a single-entry bookkeeping system is the entry of each transaction on a single line as either a positive or a negative amount. A single-line entry for a transaction includes at least the following information: date of transaction, amount of transaction and type of transaction (payment or receipt). On each line, a very basic description of the transaction is also included. Such descriptions may be worded as simply as "paid power bill" and "performed auto repair."
Function
A single-entry bookkeeping system is typically used to keep track of transactions coming into or going out of an account in the most basic way. This system serves as a record of all revenue (money coming into an account) and payments (money going out of an account), for a given period of time, usually in monthly or yearly increments. Basic bookkeeping, single-entry style included, is essential when there is a need to guarantee that an account does not run out of money. Single-entry bookkeeping tracks a starting balance and an ending balance.
Advantages
The main advantages to using a single-entry bookkeeping system are ease of use and cost-effectiveness. Because each transaction is tracked only as a credit or debit, there's no need to worry about additional accounts like payroll or inventory. Thus, this type of bookkeeping system is relatively easy to maintain by an untrained party. An individual, sole proprietorship or very small business may not need to hire or have the resources to afford a professionally trained accountant or bookkeeper.
Disadvantages
The biggest limitation of single-entry bookkeeping as a system of keeping track of accounts comes from its lack of detail. Since the system uses just one line for each transaction, tracking each transaction as simply cash in or cash out, it cannot track the course of a transaction through multiple accounts like accounts receivable and accounts payable. Further, the simplicity of single-entry bookkeeping makes it much more vulnerable to human error. An incorrectly recorded transaction may go unnoticed for a lengthy period of time.