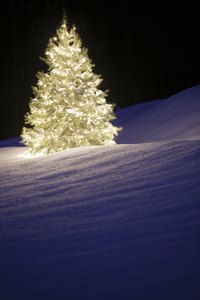 More than a half a billion Christmas trees are currently under cultivation in the U.S. Christmas trees are cultivated in every state. Oregon, Michigan, Washington, North Carolina, Wisconsin, Virginia and New York are the largest producers. In 2002, Oregon produced more than 6.5 million trees. More than 38 million live Christmas trees are sold in the U.S. each year. Enterprising individuals with access to rural acreage capitalize on the seasonal market by planting Christmas trees on their land. The majority of Christmas tree farmers plant trees to supplement off-farm income.
Income
Growing Christmas trees can be a quite profitable venture. To start a tree farm you will need a minimum of 6 to 10 acres of open land. Planting and production costs to bring a tree crop to maturity typically range from $3,000 to $12,000 per acre dependent on the cost of labor and equipment purchased. A 1989 study by the Virginia Department of Forestry reports tree farmers earn an average of a 21 percent return on investment. Many tree farms sell their trees to commercial distributors; however, farmers who sell directly to the public reap the most profits. A live Christmas tree sells for $20.00 to $200.00 each.
The U.S. Department of Labor, Bureau of Labor Statistics, Occupational Outlook Handbook, 2010-11 Edition reports, salaried agricultural managers had median weekly incomes of $775 in 2008. The middle half of wage earners received between $570 and $1,269 per week. The lowest 10 percent earned less than $358, and the highest paid 10 percent received more than $1,735 per week.
Types of Christmas Trees
A Christmas tree farmer selects the species of tree to plant, choosing evergreens that are adaptable to his local area. Balsam fir, Scotch pine, Douglas fir, Fraser fir, Virginia pine, noble fir and white pine are utilized for Christmas trees. Approximately 1,200 to 2,000 trees are planted per acre. As long as 15 years may pass for a tree to develop to a size ready for harvest. The majority of species take 7 to 10 years. Income from Christmas tree production is dependent on the species of tree planted.
Maintenance and Mangement
The National Christmas Tree Association estimates that more than 1 million acres of Christmas trees are currently in production in the U.S. Christmas trees require more management and maintenance than other forest species. Weed suppression, fertilization and insect control are used in Christmas tree cultivation. Trees must be pruned to correct the shape and sheared to present a "Christmas tree look." Specific production practices vary dependent on species, geographical location, rotation ages and the ability of the grower. Operating costs of management and maintenance impact profitability and net income.
Economic Outlook
Reports from the National Christmas Tree Growers Association indicate an optimistic market outlook. More and more people are becoming environmentally responsible and wish to experience Christmas decor based on natural greenery. Decades may pass before an artificial tree decomposes in a landfill.