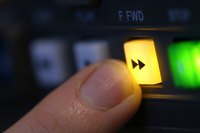 Radio broadcasts are possible thanks to operators who not only receive and transmit communications, but also maintain radio boards and other equipment, repairing and testing when necessary. The salary of a radio board operator varies depending on whether he works for a public or private organization, as well as the cost of living in his location.
Salary
According to the Bureau of Labor Statistics, or BLS, the average salary of a radio board operator in the United States was $44,510, as of May 2010. In the 10th percentile, operators earned less than $21,290 a year, while those in the 90th percentile exceeded $69,250 a year. The annual median wage was $44,630.
Employer
As of 2010, the majority of radio board operators worked for the government. Those employed by state governments earned an average salary of $44,630 a year, while those working for local governments earned an average of $50,690. Those in private industries earned an average salary of $26,010 a year.
Location
The BLS names New York as the top-paying state for radio board operators, where the average income was $56,870 a year. California closely followed with an average of $56,070, and Michigan ranked third with an average of $53,460. The highest-paying metropolitan area in the country was the District of Columbia, which offered an average salary of $48,240.
Outlook and Advancement
The BLS predicts an employment rate growth of eight percent between 2008 and 2018 for radio operators, a rate which is "about as fast as the average" for all jobs in the country. A radio board operator is considered an entry-level position, and workers typically receive on-the-job training. With experience, they may advance to become broadcast technicians, although in some cases this position requires an associate's degree in broadcast technology or a related field.