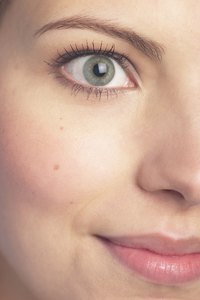 Ophthalmology nurses or ophthalmic nurses are registered nurses who specialize in providing treatment for patients with eye disorders or who have undergone eye surgery. Ophthalmology nurses typically work in the office of ophthalmologists and outpatient surgical centers. The salaries earned by these nurses tends to be lower than the average salaries of other nurses.
Pay Scale
The average salary of an ophthalmic nurse was $42,000 per year as of July 2011, according to Simply Hired. The Bureau of Labor Statistics does not provide an average figure for ophthalmic nurses, but it does provide an indication of what most registered nurses can expect to make. The average salary of all registered nurses was $67,720 per year, as of May 2010. The median salary for nurses was $64,690, and the highest-paid nurses made $95,130 or more per year. The middle 50 percent made between $52,980 and $79,020. The lowest-paid nurses made $44,190 or less per year. This places ophthalmic nurses at the low end of the nursing pay scale.
Location
Location also affects the salary ophthalmic nurse can expect to make. According to Simply Hired, ophthalmic nurses in New York City made an average salary of $49,000 per year in 2011, and those working in California averaged $48,000 per year. Ophthalmic nurses in Washington made comparable salaries at $46,000 per year, while those in Florida and Texas made significantly less; those working in Florida and Texas made an average of $39,000 per year.
Qualifications
Ophthalmic nurses have to meet the same education requirements as other registered nurses. Nurses need to have either an associate degree, bachelor's degree or a diploma from a state-approved nursing program in the state in which they intend to work. Nurses also have to pass a national licensing examination before they are eligible to provide nursing care to patients. Ophthalmic nurses also typically need to seek certification through the American Society of Ophthalmic Registered Nurses. Two years of experience as an ophthalmic nurse are required before the nurse can be certified.
Job Outlook
According to the Bureau of Labor Statistics, the number of jobs for registered nurses will grow by about 22 percent during the decade from 2008 to 2018. The bureau indicates that the growth of the health-care industry and related jobs like nursing will occur due, in part, to an aging population. Because diseases and conditions of the eye are often associated with aging, this demographic trend should provide ophthalmic nurses with excellent job opportunities.