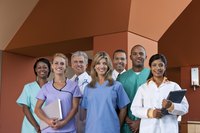 Vice presidents of patient care services play vital roles in hospitals. They work together with other medical center managers to keep the patients' quality of health high. The workload and pressure for these chief nurses can be tremendous knowing that lives will be affected. The market outlook for these vice presidents is strong. As a result, the salaries for patient care services vice presidents are also increasing.
Job Description
Patient care services vice presidents manage the nurses and many patient-related services for hospitals. They develop and implement policies designed to help patients more effectively through the nursing staff. Many vice presidents spend special attention on staffing issues to fill any shortages of qualified nurses. Patient care vice presidents may also oversee a small to very large staff, depending on hospital size.
Low Salary Range Factors
The salary range for patient care services vice presidents can vary widely. Among the primary influencing factors are experience, medical center size and education. A lower end salary for a patient care services VP with strong experience at a small hospital can start around $150,000, according to Healthcarejobs.net. Patient care services VPs generally have nursing degrees from notable schools and more than a decade of relevant experience.
High Salary Range Factors
The pay at the higher end of the salary range for patient care services VPs can be significant. The increasing factors consist of hospital size, seniority and education. For example, a vice president of patient care services at a large medical center with a nursing degree from a notable school and vast industry experience can earn over $250,000, according to the University of California in 2011.
Job and Salary Forecast
The market outlook for patient care vice presidents is expected to grow vigorously. Employment is expected to grow 22 percent between 2008 and 2018, according to the federal Bureau of Labor Statistics. Patient care services VPs can enhance the demand for their services by gaining experience at respected hospitals and achieving relevant degrees such as nurse executive from notable nursing schools. As the shortage of nurses continues to grow and the public continues to demand higher quality health care, the demand for patient care VPs will continue to grow as well.